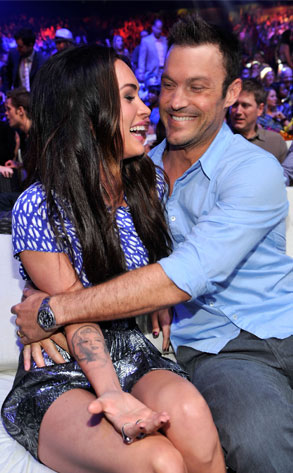 Kevin Mazur/TCA 2010/WireImage.com
Dear Ted:
What's up with Megan Fox's face lately? It's becoming more and more evident that she has definitely done something. In the pictures of her from the Teen Choice Awards, it looks like she could hardly move her face!
—Melia
Dear Foxy and Frozen:
I'll 'fess. Megsy does look a bit different these days, but I wouldn't chalk her up to Nicole Kidman frozen-forehead syndrome yet. And maybe it's just me, but I think she's still smoking hot (well, me and Brian Austin Green, of course), nothing weird-looking in person. And I loved her in Eminem's new music video. Definitely thought she stole the show, no?
Dear Ted:
I used to feel sorry for Joe Jonas getting a bad reputation for dating and dumping Hollywood's teen queens. He is young and should "play the field" to find his Miss Right. It's just glaring because it's so public. But after the Demi Lovato debacle, and now this new interest in Ashley Greene, I'm starting to wonder if he's courting the limelight as well as the girls.
—Just Wondering
Dear Mr. Wrong:
Something like that, babe. But trust, neither of those ladies minds too much.
Dear Ted:
Robert Pattinson has been spotted at a lot of the same places at the same time as John Stamos and Bob Saget lately. Saget's birthday party at Stamos' house, some pro-wrestling guerilla event in Reseda, partying at the Soho House. Tell me he's not hanging out with these guys who are notorious for their womanizing and substance usage.
—Casey