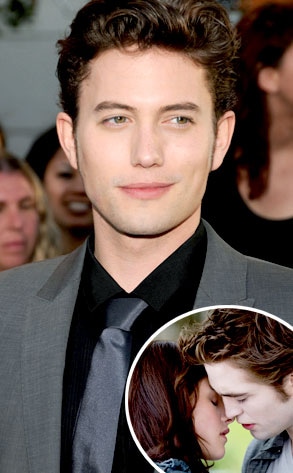 Mark Sullivan/WireImage.com; Kimberley French/Summit Entertainment
We finally got a chance to catch up with Jackson Rathbone, a hunk who flies way under the radar in our opinion.
The Twilight star has had a crazy summer promoting Eclipse and The Last Airbender, all while touring with his band The 100 Monkeys (Jackson even busted out his harmonica on the Teen Choice Awards carpet to play us a little tune, heart him).
But that doesn't mean he's dreading getting back to work on Breaking Dawn, thanks to Kristen Stewart:
"I can't wait, it's always a reunion" Jackson told us about gearing up for back-to-back filming of the next two movies, even though he said he had "no clue" when production starts except sometime this fall.
"I'm really looking forward to seeing Bella's transformation, that's one of the things that has been building up for a while," Rathbone dished, all cute all scruffy.
"I'm excited to see how Kristen Stewart really works with that. That's going to be fun, she's an incredible actress and, I know this is a pun, but she's chomping at the bit in order to play that transition."
And we know fans are chomping at the bit for that feathers-flying Robsten sex scene.
"I think it's going to have to be PG-13, I don't know how they're going to keep it PG. [Screenwriter] Melissa Rosenberg herself has told us there is going to be sex in this movie. I can't wait. It's in the books and I mean they're married, they gotta consummate that relationship," J.R. laughed.
Now that the release date for the final Breaking Dawn films are set, Jax told us he's more sad than excited to be free of his vampire duties.
"It's one of the sad aspects of Breaking Dawn being the last two chapters of the film series, it was always a family reunion we all go out we all have fun. It's sad to see it go. [Twilight] has done so much for me in terms of broadening my audience and my art form. Hell I always wanted to play a vampire, it's cool. It's been really fun."
No, your eyes aren't deceiving you an actor actually was just grateful for what he's been given. Hope we're not the only ones having some serious Team Jasper love here.
"Honestly, I would do like Twilight Saga: Origins, Jasper's back story. I'll sign up! I'd get to play an angry civil war vampire again."
Careful what you wish for babe! This sounds like something Twi-fans might start campaigning for. Right guys?