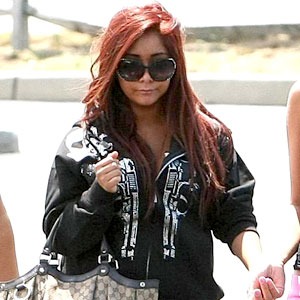 Daniel/Mauceri/INFphoto.com
Oh, no!
The Jersey Shore jizzcuzzi hot tub may not be so action-packed this summer.
Why?
Because Snooki insists she's toned down her hunt for another juicehead gorilla…
"There's no romance," the reality poof head told me about the state of her love life when I caught up with her the other day at the Beverly Hilton hotel. "I'm waiting for him to come to me now. It'll happen when the time is right, but I'm not looking right now."
Snooki does dream of becoming a—gasp!—mom some day. "I want two: a boy and a girl," she said. "I'm going to name them Isabella and Frankie."
Why?
"I don't know," she said. "They're just my favorite names. I'm going to call her Bella."
And, as you may have heard, one of Snooki's best friends Deena Cortese has replaced Angelina moved into the Jersey Shore house. She also insists she's not on the prowl. "I'm just going out to have a good time," Deena says. "If someone was to come to me, cool. If not, that's fine. I'm a very independent woman. I can do fine on my own."
Meanwhile, have you seen the new animated short about Jersey Shore from Taiwanese news service Next Media Animation? "Snooki needs to move fast," the narrator says. "Who knows when the American public will lose interest in her? Her 15 minutes of fame may soon be up."