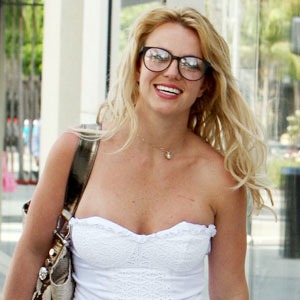 Fame Pictures
Holy Glee goodness! The busiest man in this here E! building just got some awesome-sauce scoop about Britney Spears and that massive post-Super Bowl episode that we must share...
Britney Spears is going to personally appear on Glee!
"I will give you a little scoop," Glee boss Ryan Murphy just told Ryan Seacrest on his KISS FM show, "which is that Britney will 100% be on the episode, which is exciting. She's going to come and join us and do a couple scenes."
We already knew her music would be featured in an episode for the second season, but this is the first word that Britney herself will guest star on the show. 
Jeff Steinberg, PacificCoastNews.com
Can Britney out-Britney Lea Michele and Heather Morris?! We shall see!
Even better? Ryan is clearing up all those rumors about Matthew Morrison shaving off his trademark (magic-elf-hiding) hair for the Britney episode.
"That is false and I'm happy to talk about that," the Glee boss says while also promoting his new film Eat Pray Love. "We are doing a Britney episode and people do have certain expectations because the show is sarcastic. But the Britney episode is so reverential about her, and it's so kind and it's about her music. It's not about her personal life, and I think Britney Spears is essential to pop culture, and I want to say thank you for what you've done, and we're encouraging you to continue to be doing as fantastic as you do. So that's not true. We're handling Britney with kid gloves."
This will be Britney's first TV-series appearance since she snuggled up to Neil Patrick Harris on How I Met Your Mother.
When asked if Britney will play herself, Murphy says: "I don't know yet. The fun thing about the way we're doing [the episode] is all the Britney Spears numbers are fantasies."
Murphy revealed that in the Britney ep, four of the McKinley High students will be put under anesthesia by John Stamos' dentist character and have Britney-like hallucinations.
Ebet Roberts/Getty Images
As for the post-Super Bowl episode of Glee, Murphy tells Seacrest that he's hoping for a Prince, Michael Jackson or Paul McCartney themed episode—though nothing is set yet. (Murphy recently revealed that McCartney had sent him a "mixed tape" for consideration.)
"I don't have any plans right now to do a Michael Jackson episode. So [Adam Shankman's] not directing that, but he is directing a big, juicy spectacle. I don't have the rights to that, and I think it's really hard to clear Michael Jackson music. I have a list of three dream people who I would love to do after the Super Bowl: I would love to do something about Prince. I think Prince would be amazing. I want to do a Beatles episode. I would love to do a Jackson episode, so one of those three we'll do for the Super Bowl. I don't know which one."
Murphy also told Seacrest he wants "more Gaga" this season, and said this of Carol Burnett playing Sue's mom: "The world's most famous Nazi hunter, so that's going to be awesome. And she returns to Sue because she's caught the last Nazi."
Ryan Seacrest also chatted up Mark Salling (Puck!) and premiered the first single off of Mark's solo album, Pipe Dreams, on KISS FM. The song is called Higher Dreams.
Are you pushing for a tribute to M.J., Paul McCartney, Prince or someone else for after the Bowl? Make your voice heard down in the comments.
________
Follow @kristindsantos on Twitter for more awesome TV scoop she heard from Ryan Seacrest—and occasionally stuff she got her own self, too!