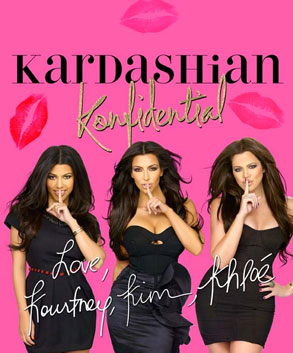 St. Martin's Press
Our literary cup runneth over. First, we got a sneak peak at the swoontastic cover of Memoirs of a Bieber the Justin Bieber chronicles.
Now, we get to take a gander at the sisters Kardashian glamming it up for a come-hither jacket of their own (sorry, Biebs, they win).
Due out Nov. 23, Kardashian Konfidential was copenned by E!'s holy reality triumvirate of Kim, Kourtney and Khloé Kardashian Odom.
But don't be fooled by the girls' shushing pose—the book is chock-full of dirt-dishing goodies, including never-before-seen personal pictures, childhood stories, dating advice and even diary entries.
So go ahead and judge this book by its cover. When it's this hot, why not?