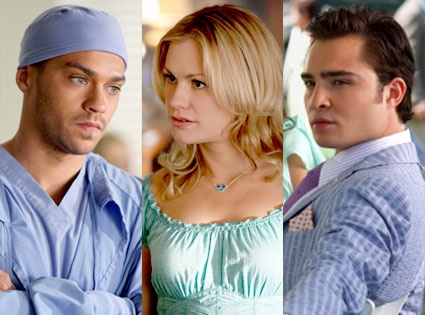 Adam Larkey/ABC; Giovanni Rufion/The CW; John P. Johnson/HBO
What's that? You thought last night's True Blood was shocking?
Pshaw! Well, just wait till you see what exclusive TV scoop we have for you this week on Grey's Anatomy, True Blood, Glee, The Vampire Diaries, Gossip Girl and more because...
It's totally not as jaw-dropping as True Blood. What, are you crazy? How can we top that?! And am I the only one who can't wash those images from my brain?! But still, we have some cool answers to your burning questions about Chuck and Blair, Katherine and Elena, Sookie and the otherworld, Matthew Morrison and his hair and more, so read on...

Clarissa in San Diego: If Javier Bardem approached Ryan Murphy about Glee during the filming on Eat Pray Love, any chance that Julia Roberts might also pop in?
It's interesting you use the word "pop in" because Ryan is thinking the same thing. After all, she's going to be too busy with Ryan's other project to do a full on guest role. "She loves it, but I keep saying, 'You have a movie to promote. You don't have time to be on Glee,'" Ryan says to us while doing a little of his own Eat Pray Love promoting. But keep your eyes peeled for her anyway: "Maybe if I do something with Javier, maybe I'd have Julia come on and just do a line or something." Funny that, cause Javier is confirmed to be guest starring.
Reed in North Carolina: Are One Tree Hill and Life Unexpected really doing a crossover?
Yes, it's true! Haley (Bethany Joy Galeotti) and Mia (Kate Voegele) will swing by to see Cate (Shiri Appleby) at the radio station for some nice crossover love on the Oct. 12 episode of LUX. I'm told the CW execs are hoping to get the OTH crowd fully sucked into LUX—as you should be!

Pete in Oklahoma: Have you heard what Ali will be up to now that The Bachelorette is over?
Sweet li'l Ali isn't really even sure of that herself: "My reason was to find love on The Bachelorette. The media frenzy brought a lot of good things in my life, [and] I don't think I'll be going back to Facebook, but who knows. I definitely have some people who are advising me right now, and will figure out what's the next best move. I want to make the best of this blessing that we've been given." Ali did just sign with an agent, so something tells me she's having a go at the whole show biz thang.
Sarita in West Hills, Calif.: A friend slipped me a copy of NBC's new show The Event and I was pleasantly surprised. They're not going to let us down, are they? I'm intrigued!
I've already gone on record that I love it, and I'm pleased with what I've heard from the producers, but more importantly Jason Ritter told me at the TCA (Television Critics Association Press Tour) that he was relieved to hear from so many critics that they liked it, too. Oh, and speaking of wicked cool, guess who just scored an exclusive sneak peek of The Event's not-yet-released marketing campaign?...Spoiler alert: Me! Check it out:
Wanda Two Saints: How about some Lost scoop?
Wah! I have to say I'm missing this show more than ever now that we've just come through Comic-Con and TCA and none of our favorite Lost peeps (save for Daniel Dae Kim) were there. Apparently, the show really IS over. Oh, and because I never pass up an opportunity to gloat (kidding), I have to point out how cool it is that the Lost auction has confirmed my report in May that the Man in Black's name was Samuel. As I reported right after the finale, Titus' character was listed as Samuel in all the scripts, and now in the Lost auction, there is a chair back where you can clearly see "Samuel" written under Titus Welliver's name. All this to say: boo-ya!
Bernadette in Nebraska: What's up with Ellie and Andy on Cougar Town in season two?
Like we can possibly get a serious answer out of Cougar show man Bill Lawrence and his wifey/series star Christa Miller. Here's his response to your question:
"All my wife does is pitch different fantasy ideas of actors that she can make out with besides Ian Gomez. It's not against Ian Gomez. But in her head, she feels: (a) She's kissed Ian Gomez; and (b) She doesn't get sexy makeout scenes with any other actors. Literally, there was a meeting at my office with [Law & Order's] Jeremy Sisto, and this is how it went: 'He's cute. Maybe we can see a flashback scene that Ellie had sex with him.' I'm like, 'Maybe not.' There's no safe way to let your wife have fun." Love these two, by the way!
Mark Sullivan/Getty Images
Kelly in Boise, Idaho: I'm a diehard Everwood fan and so happy Sarah Drew will be back on Grey's this season. She will...Right?!
Yes, she will! She's been promoted to series regular, actually. I just interviewed Sarah at her house today (that interview will run closer to Grey's premiere in September on E! News and E! Online). And I can tell you that not only is Sarah one of the most instantly likable people you could ever meet (pinky swear), she vows that her character April will be less hateful this year. "This season is all about the redemption of April!" Sarah promises. "Her McDreamy crush is completely over and what happened with the shooting will change her, I think." Speaking of, she's also already spent some quality time with McTreemy (James Tupper of Men in Trees) and says he's fab, "the fans will love him," and also "he's not hard to look at." Who knew?!
Britney in New Orleans: I'm excited for Grey's Anatomy to come back, especially after that crazy finale! Do you have any idea what's coming up for my new favorite regular, Jesse Williams?
Rejoice in the hotness that is Jesse becoming a full-timer at Seattle Grace! (And the guy Sarah calls "McPretty.") As for his character's romantic life, he tells us that while he isn't exactly sure what lies ahead for him, he is "sure something will come up soon out of a shared experience we've all had." The shared experience he speaks of is, of course, the shooting, the crying and all the whatnot and what have you from last season's finale. "People are more willing to express their feelings and they feel like that clock is ticking and time is precious, and it's time to be honest with each other," he says. Well said, sir.
Steve Granitz/WireImage.com
Michelle in Santa Barbara, Calif.: Please tell me that Matthew Morrison isn't shaving his head for the Britney Spears episode! How will Sue insult Mr. Schuester now?
It might just work, though. Think of all those bald jokes she could come up with! There have been no official confirmations (or denials) about M.M. shaving his curls off, and when we asked Matthew himself about it, he flashed that charming grin and got all coy with us: "I have no idea what you're talking about." Don't get cute with us, sir. OK, you can. Matt then reminds us that we shouldn't always listen to the gossip. "It's a rumor at this point. How many rumors are there about Glee? There are so many rumors. What can you believe?" he rants to us. I believe a bald Mr. Schuester would look like the child of Mr. Clean and Sinead O'Connor. (P.S. Have you seen Lea Michele on set in her "Baby One More Time" duds? Squee!)
Paula in Franklin, Ind.: Glee! Glee! Glee! I need news on Glee!
So, what you're saying is that you're dying for some scoop on Bachelor Pad? Got it. But we'll throw you some Glee info anyway. Chord Overstreet, the new dude at McKinley High, tells us that, among other things, his character will be "competition" for Finn. Awww, poor Finn. We don't know how much more he can take after Jesse St. James stole his solos and his girl last year! Chord also reveals that Finn will discover his character's singing skills as he's singing in the shower. Sound familiar?
Dionne in West Virginia: Chuck! Chuck! Chuck!
Don't you worry your pretty little heads about any continuity issues on Chuck because Josh Schwartz and Chris Fedak have assured us that the barely introduced Governor from last season will be seen again in the new year. "The Governor is still a part of the show," says Chris. "We want to do big, exciting stories. So right now, going into season four, it's really about the search for Mom." So the Governator will be a side story...but still a priority. More importantly, though (this is what they call burying the lead, my friends), I am heading to the set of Chuck tomorrow, so please tweet any questions to @kristindsantos or email them to tvdiva@eonline.com. Or send a carrier pigeon. Whatev.
Rebecca in Los Angeles: How about some True Blood scoop? The last two episodes were crazy-ass good! Will we be seeing more of Hadley?
I know! Emphasis on the "crazy" and the "ass." I think I've learned more about human anatomy from True Blood than in all my previous science classes combined. Thanks, Professor Ball! Anyhoo, I'm hearing that True Blood is expanding their "Fairy World" set, which I assume (whomp me over the head if I'm being dense) was the heaven-like world we saw in Sookie's near-death experience on last week's show? Also, I'm pretty sure there are vampires on this show, but don't quote me on that. Also, I'm told Alan Ball is now prepping to shoot his new pilot All Signs of Death on the same studio lot as True Blood, so we can look forward to more good TV—and hopefully no less involvement from A.B. on TB.
Kaycee in Tampa, Fla.: On True Blood, I'm loving that Hadley is getting more screen time. Will we be seeing more of her?
What in fang's name is she hiding from Sookie?! Well, if you wait just one more week, little ol' Hadley will be introducing her cousin to another family member. Lindsey Braun also tells us that she's really enjoying exploring her sexuality on the show, so we'll no doubt see more of Hadley and the Queen in weeks to come. Just when you thought Bon Temps couldn't get any hotter...
Humphrey in New Jersey: Are Sam's parents gone for good on True Blood?
If you like your shifters dark and dangerous, keep a close eye on Sam Merlotte. This guy is headed for a serious freakout...and it ain't gonna be pretty.
Enough Chuck and Blair! I want the goods on Rufus and Lily, the best couple on television. What's up for them this season? Also, is Michele Trachtenberg going to be a regular?
I'm told that Michele is not a series regular, though we'll definitely be seeing her in the beginning of the season, obviously. And as for Rufus and Lily, not a whole lot of major action going on there in the beginning of the season. But stay tuned!
Drew: Is the baby really Dan's on Gossip Girl? Will Jenny Humphrey be back?
No comment re: the baby. But think about it! As for Little J, yes, she will return.
Anything good coming up on Gossip Girl?
Well, when I asked a good show source if there's hope for Chuck and Blair, he said, "Of course," so take that for what you will. Meanwhile, in real life, our very own Hollywood Party Girl is reporting at Jessica Szohr and Ed Westwick have reunited into full-fledged coupledom. Guess he doesn't really care that just last week, Jessica was swapping spit with another gal (and we know this little gem thanks in large part to our partner in crime Marc Malkin). I wish Kristen Bell's voice was narrating all this 'cause it'd be far more fascinating...
Gail in Canton, Ohio: Do you have anything, anything at all on the last season of Friday Night Lights? I know it doesn't come back for a while, I need something!
Friday Night Lights returns to our TV (at least on DirecTV's 101 network) at the end of October, but we know all of our old favorites are back, including Adrianne Palicki. But why does Tyra come back? "In the last few episodes you really find out why it's been so hard for her to come back to Dillon," Adrianne tells us. "She's dealing with her own issues and you see a lot of what she's been going through." What kind of issues do you think brought Tyra back? Tim Riggins and his dreaminess? Discuss.
Mary in St. Louis: Do you know how Friday Night Lights will wrap up their storylines? I just want everyone to be happy!
I'm not spoiling a darn thing. At least not yet. I'll just direct you back to what I tweeted last week. I'm such a tease, I know.
Darina in New York City: Community scoop. Now. Or else.
Ooooh, I do like a good threat. So at risk of getting threatened by Betty White when I hit the Community set this Friday (don't you wish your girlfriend infiltrated sets like me), I will reveal that, according to sources, Betty will be doing a rap with Abed and Troy at the end of the episode in which she is guest starring. The S is for super and the U is for un-freaking-believably awesome. I think the episode may go down as one of the best ever. Just a hunch!
Zion in Las Vegas: How about some How I Met Your Mother news?
OK, so don't have a mayjah meltdown when you hear this, Carter Bays, one half of the HIMYM brains, recently said: "If HIMYM is a three-act play, then last season was the end of the second act, and this year will be the beginning of the third act. We're beginning the push toward what the ending of the series is." That doesn't mean the show is ending...trust us! It really just means that these guys are as brilliant as Darlton and are making sure they're able to end things on the right note when the time comes.
Felicity in Orlando: I kinda love Alex and Turtle on Entourage. Can they make it work after all?
The beautiful Dania Ramirez gives us a big fat "maybe" on that topic. "I do think he's charming in the way that he's really into her," she tells us. "But she's trying to make things happen and trying to stay business [minded], and that's another reason why she doesn't want to cross that line." So to sum that all up...maybe? Mixing business with pleasure doesn't always lead to success, after all...
Brandon in Houston: I want something, anything on It's Always Sunny in Philadelphia!
Hows about a little trip outside of Philly? The gang is packing up this season and heading out on the road for a big trip to...New Jersey?! Yep, that's it, really. But we will see MLB's Phillies superstars Ryan Howard and Chase Utley, too. So that's fun.
Jennifer in Boise, Idaho: OK, we saw the tweets and know that you guys have seen the Sons of Anarchy premiere. So let's hear it.
Without spoiling anything from the premiere (sorry, guys, it's still a little too early for that!) we can tell you that, according to show runner extraordinaire Kurt Sutter, this Abel/babynapping storyline with drive a majority of the season. Translation: Don't expect to see that rockin' little kid back in his daddy's arms anytime soon.
Tammy in La Quinta, Calif.: Can you tease anything else about Sons of Anarchy's upcoming third season?
Abso-freakin'-lutely, we can. The third year of SOA won't really consist of one big bad, but if that title must go to someone, then Kurt Sutter bestows it upon...the Man in Black?! OK, OK, we kid. But seriously, Titus Welliver's Jimmy O'Phelan will be an evil presence throughout the season. Paging Matthew Fox! (Someone needs to take this guy out, too!)
Jessalyn in Sykeville, Md.: How about some scoop on Pretty Little Liars' mid-season finale?
Take it away, Lucy Hale (Aria)! "You'll find out a lot about Toby and Emily, and her relationship with Maya, and Aria and Mr. Fitz. Then at the end, when you think everything's looking up, something huge happens and you'll be left with your jaw dropped." Adds Ashley Benson: "Hanna finds out a lot more information about A—and is not invited to go glamping!" Ugh, how rude!
Clayton in St. George, Utah: So excited for Weeds to come back! I'll give you a high five if you give me the lowdown on the season premiere.
A high five!? How can I say no? The star of the first episode back is, undisputedly, the croquet mallet. Whether it's being clutched by Shane as he explains his murder style to his bro Silas or being used by Nancy in other acts of vandalism...you must remember, this is not just "a stick." It is evidence, and the final scene of the episode (starring the mallet!) eerily marks the beginning of a long road of running for the Botwins.
Jovanni in Santa Fe, N.M.: Any word on how long Adam Rodriguez will be back on CSI: Miami?
As a matter of fact, we just caught up with the studly star on the set of the CBS hit, and got some majorly good news. Just how long will Adam stick around CSI: Miami? "'Til the wheels fall off, I imagine." Woot woot! "I left and came back to round out the character and in doing that, everybody decided it was best to come together again. We did that, so off to a new start now, season nine. It was nice to get a breather and come back recharged and sort of ready to take it on all again in a new way." And it's equally nice to have you back.
Walter in Naples, Fla.: Hi! Has Breaking Bad been renewed for a fourth season? Please say YES...
If you insist...YES. But we're going to have to wait a while, unfortunately. Aaron Paul told us last week at an event for the Academy of Television Arts and Sciences (celebrating his Emmy nomination, of course!) that they don't start shooting Breaking Bad until January, and it will probably air next summer. "Vince [Gilligan] wants more time in the writers room with the rest of the staff," Aaron explained. "He wants to have most of the scripts done by the time we start shooting so he can be out in New Mexico with us and grabbing the reins." More bad news: Star Bryan Cranston, also nominated for his third Emmy (Walt and Jesse FTW!), told us he's "leaning towards not" directing any episodes this season. "I burn myself out and it took a while for me to recover last year—I think it's probably best that I don't do it personally." Instead, Bryan said, "for the premiere episode of our fourth season we will hopefully [have] a feature director who enjoys the show—there's a lot of people interested."
Kitty in Scottsdale, Ariz.: I'm a huge Closer fan. Can you get any scoop on that show? It's so brilliant but it's largely overlooked, which is a shame.
At least Kyra Sedgwick isn't overlooked—she just received her fifth Emmy nod for The Closer. We spoke with her last week at a nominees celebration, and she dished, "The season is about attraction. Things that are attracted to you, things you're attracted to, whether it's people or jobs or the attraction to play God, to be a helper, or to be needed. There is this whole chief thing that goes on. Pope really wants it bad—there's really great stuff with me and J.K. Simmons, which is wonderful because he's so amazing and we underutilize him. So I'm happy this year that we're not doing that."
Frederick: Is there any chance David Anders will be back on The Vampire Diaries? I think he's awesome.
I'm hearing his character isn't dead, so fingers crossed! I'm guessing we'll see him again. And chances are he won't be Katherine's biggest fan.
Georgina: Is Katherine really back for Stefan? I saw the preview at Comic-Con but I'm having a hard time believing it!
Yes, she really is back for Stefan (or Ste-fuh, as Paul Wesley and I like to call him). I'm also told there are no plans for a love interest other than Katherine or Elena for Damon or Stefan for the beginning of the new season.
Nadia: Will Quinn be back on One Tree Hill?
Yep!
--Additional reporting by Megan Masters, Jenna Mullins and Drusilla Moorhouse
________
Follow me no Twitter @kristindsantos for updates of breaking TV scoop and other super important stuff you can't possibly live without.