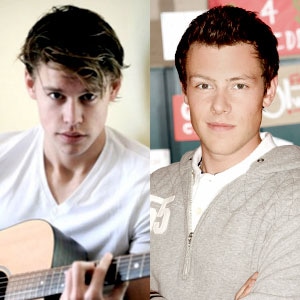 FOX; Joe Viles/FOX
There's a new boy in town. And don't be surprised if he breaks out into country music.
Glee's newest addition, Chord Overstreet, hails from Nashville. His dad is Paul Overstreet, a singer-songwriter who has released more than 10 albums and worked with Kenny Chesney, Randy Travis and the Judds, among others.
"I would love to do a country song on Glee," Overstreet told me at the Teen Choice Awards. "We get an episode at a time, so as far as the storyline goes I don't know if it will happen. But hopefully. That would be fun."
Overstreet plays Sam Evans, a transfer student to McKinley High. At first, Sam is befriended by Finn (Cory Monteith) but eventually becomes his competition.
Overstreet is mum on storyline details, but not about his wish list of songs he'd like to belt out with Lea Michele & Co. "I would love to cover Michael Jackson, too" he said. "I want to do at least one Michael Jackson song. I like 'Beat It' a lot."
And the King of Rock 'n' Roll.
"I'm a huge Elvis fan," Chord said. "I like 'In the Ghetto' and 'A Little Less Conversation.' They're both great songs. But really anything he did."