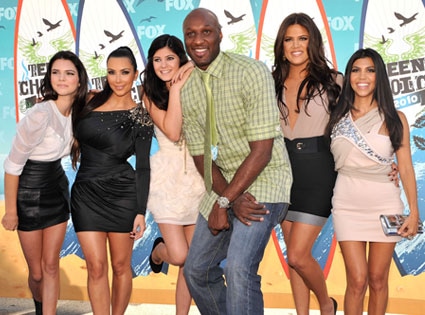 Kevin Mazur/TCA 2010/WireImage.com
Keeping Up With the Kardashians is a choice activity these days.
The E! series was named Choice Reality Show at the 2010 Teen Choice Awards, and Choice Female Reality Stars Kourtney, Khloé and Kim Kardashian were on hand to accept the honor tonight with red carpet hotties-in-training Kendall and Kylie Jenner.
"It was such a fun award show!," Kim tells E! News. "This is the award show where we love to bring Kendall and Kylie. We all had a blast!"
Khloé's hubby, Lamar Odom, was the token male in this otherwise girlicious group as they walked the blue carpet outside the Gibson Amphitheatre in Universal City.
"Yay!" exclaimed Khloé. "We're so happy we got to present two awards and accept two at the same time. We have the most amazing fans who we love and thank for all their support."
Added Kourtney: "It's an honor that our fans voted for us as their favorite reality stars and as their favorite reality-TV show. Can't wait until they see season five!"
Then there was "Cougar Kardashian," aka George Lopez in drag, who accompanied the Kardashian sisters to the podium to present the surfboards for Choice Actor and Actress in a TV Drama to Gossip Girl's Chace Crawford and Leighton Meester.
"I feel so much like a Kardashian, I can't wait for basketball season to start," the Lakers fan told E! News.
The Teen Choice Awards honor stars (and the occasional body part) of movie, TV, music, sports and fashion in more than 100 categories. An edited version of the festivities airs Monday night on Fox.