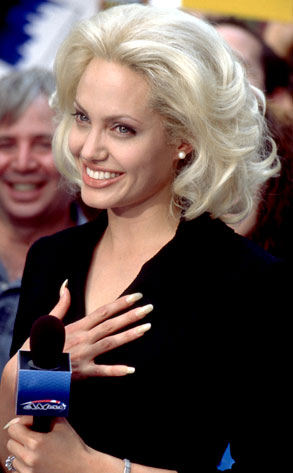 Myles Aronowitz/Monarchy Enterprises
Dear Ted:
You seem to be the master on all things Angelina Jolie, so let me ask you. When will she do something other than dark drama and action? Will we ever get to see her do a comedy? I'm getting tired of seeing her with the same makeup blood and bruises.
—Camille
Dear Not So Fast:
Even if you're forgetting (how could you?!) the action-heavy Mr. and Mrs. Smith or the animated Kung Fu Panda, you've got to remember one of Team Awful's favorite movies from the early 2000's: Life or Something Like It. Remember? Romantic comedy, Ed Burns, weird blond hair? Yep. That happened.
Dear Ted:
If Robert Pattinson is working with all these older women, what do you think about Angelina and Rob doing a cool thriller together? Rob and Scarlett Johansson doing an indie flick? Let's hear your suggestions!
—Ariel
Dear Cougars!:
Um, older women? Babe, just how old do you think Reese Witherspoon is? Heaven forbid he do a movie with Betty White as a washed-up porn star looking to get back in the Industry. In all seriousness, I'd love to see Rob with someone who can bring out some comic chops. Maybe Sandra Bullock or Emma Stone. That gives us some generations to choose from.
Dear Ted:
Kanye West as American Idol judge. What do you think?
—April