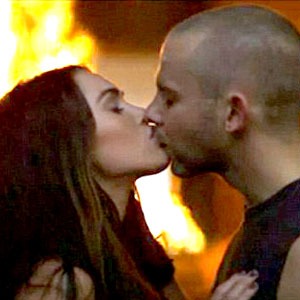 Interscope
Kissing Megan Fox is a pretty good gig, if you can get it.
And Dominic Monaghan did get it. Even so, he insists it wasn't as exciting as you might think. The Lost actor and the former Transformer beauty star in the Joseph Kahn-directed video for Eminem and Rihanna's hit single, "Love the Way You Lie."
"It's work," Monaghan told me earlier today. "You have to understand that cameras are being pointed at you and they're in your face and people are telling you to move this way or move that way. It's not terrible work, but it is work."
Besides, it's not like Monaghan and Fox were rolling around in a bed for some sexy romp...
As we were the first to tell you, the two portray Eminem and his real-life wife Kim Mathers during the darkest and most violent time in their relationship.
"I think the message in the video is that in this type of relationship, regardless of the intensity of the positive, it's ultimately damaging," Monaghan said. "We tried very hard and made a very conscious effort not to glorify violence. The violence in the video is not meant to be seen as something cool like you see in a Schwarzenegger or Sylvester Stallone movie."
Not only did Monaghan shave his head for the video, he asked Fox to call him Slim (as in Slim Shady) during the shoot. "You try to make it as real as possible," he explained. "I tried as hard as I can to find things that would press her buttons and use those to get her angry. I wanted her to be on me and smack the hell out of me, which she proceeded to do.
"I busted myself up punching the walls, punching the mirror and all that kind of stuff," he said. "You come home at night and you're tired. You don't go home at night feeling all stoked that you got to make out with some cute girl."