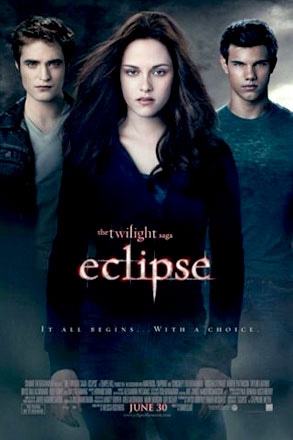 Summit Entertainment
Vampires and shape-shifting wolves are not immune from the law of summer flings: Even the hottest ones inevitably cool.
And so it has come to pass with Eclipse.
The sequel's Top 10 run at the weekend box office is all but assuredly done. So, how'd it do? What'd it outdo? And is the franchise on the rise?
Let's find out:
• With a $290.2 million domestic take, as of Wednesday, Eclipse is the third-biggest grosser of the summer, and the fourth biggest of the year. Worldwide, it's at about $650 million, which makes it the year's biggest 2-D movie so  far, and third biggest overall, behind the 3-D-assisted Alice in Wonderland and Toy Story 3.
In short, Eclipse was, as expected, big.
"When you consider that the film cost under $70 million, it will probably, along with Toy Story 3, end up as one of the most profitable films of the year," Exhibitor Relations' box office analyst Jeff Bock said in an email.
• Among Twilight movies, Eclipse is No. 1 domestically. So, so much for the argument that Team Edward loyalists turned on the movie over alleged Team Jacob favoritism…
Um, right?
Well, as some aggrieved fang fans may point out, New Moon made a lot of money—more than $20 million—after it fell out of the Top 10. This means that while Eclipse holds a substantial lead over its predecessor now, the race for No. 1 may tighten when all is said and counted. Worldwide, New Moon is the one with the substantial lead over Eclipse.
So, did Eclipse eclipse—or get eclipsed? 
Summit exec Richie Fay said Friday he expects Eclipse to keep the edge domestically. Worldwide, he was less sure, saying foreign-exchange rates may cut into Eclipse's bottom line, although the film's overseas attendance has been virtually even with that of New Moon's.
"We're not really looking at franchise fatigue," Fay said. "I think our audience has remained relatively loyal. It might have [even] expanded a little bit."
• Speaking of expanding, shooting on the next Twilight chapter, Breaking Dawn—Part 1, is slated for the fall.
Said Bock: "Expect Summit to [continue to] suck fans' wallets dry."
In a good, old-fashioned vampire way, of course.