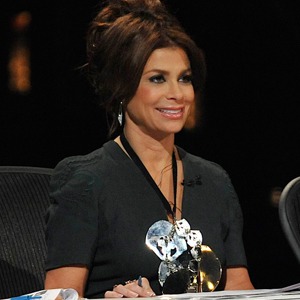 Michael Becker / FOX
Sorry, old-school American Idol fans.
Despite returning producer Nigel Lythgoe's dream of welcoming Paula Abdul back to the Idol family, you won't be seeing the sweet-natured judge on Idol—or, perhaps, anything besides Got to Dance—anytime soon.
According to a source familiar with Abdul's recently executed contract with CBS, she is prohibited from appearing on any competition show on any other network, both broadcast and cable.
She signed the seven-figure deal in the spring, when it was announced she would judge and executive-produce the upcoming American version of the U.K.'s Got to Dance.
"If Paula did Idol she would get sued big-time by Viacom," says the source. "She's locked in exclusively with CBS."
The source adds that the former chart-topper's obligation to CBS is for "about five years" and that the only way for her to appear on Idol would be if CBS to amended her deal.
How likely is that?
Says the source: "Paula has a better chance at winning American Idol than she does at returning as a judge."
Lythgoe indicated that he's aware of Abdul's unavailability, telling E! News tonight on the set of So You Think You Can Dance that he'd love to have her back, but that she had signed with CBS "probably exclusively."
"I love Paula," Lythgoe added. "Paula is under contract to another company so she is unavailable."
Neither Fox nor Abdul has commented on any cross-pollination speculation.
—Additional reporting by Drusilla Moorhouse
(Originally published Aug. 5, 2010, at 10:35 p.m. PT)