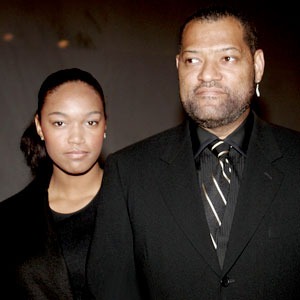 Nancy Ostertag/Getty Images
It turns out Laurence Fishburne may have been bristling at his daughter's career choices for some time now.
Court records obtained by E! News show that Montana Fishburne, who's making her adult-film debut this month in Vivid Entertainment's cleverly titled Montana Fishburne, was arrested last year for alleged prostitution and only avoided jail by signing up for a work-alternative program.
So maybe porn is a step in the right direction.
On March 19, Fishburne pleaded no contest in a Hollywood courtroom to criminal trespass, a misdemeanor, and the court agreed to drop charges of solicitation and loitering in a public area for the purpose of prostitution, according to court documents.
She was sentenced to two years' probation and 15 days in jail, but was able to do community service instead of jail time.
As part of her probation, Fishburne was also ordered to not charge (or attempt to charge) money for sex; have sex in a public place or a place "exposed to public view"; hitchhike or otherwise engage drivers in conversation; and loiter in alleys or public streets "with the intent to solicit acts of prostitution."
Basically, don't go out and be a hooker.
The 19-year-old was also ordered to complete an AIDS-education class and submit to an AIDS test.
A call to Fishburne's attorney of record, Sammy Weiss, was not immediately returned.
(Originally published Aug. 6, 2010, at 4:25 p.m. PT)