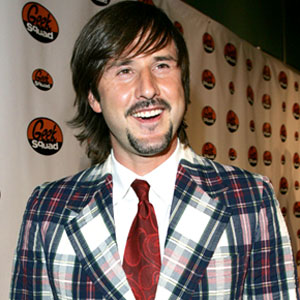 Donato Sardella/Getty Images
We'll get to David Arquette's new venture in the Hollywood nightlife scene in a sec, but first we gotta talk Scream 4.
Arquette tells me he had no problem reprising his role as the bumbling Dewey Riley for the fourth installment of the Ghostface franchise—even though it's been like forever since Scream 3 hit theaters. "He's an easy character for me to play for some reason," he says with a laugh. "I think we might share a lot of the same qualities, good or bad."
Arquette and his wife Courteney Cox along with Neve Campbell and director Wes Craven have all returned to resurrect the horror series…
"It's really been kind of a trip for me to say the least," Arquette says. "I met my wife on the first one 14 years ago or something and now we have a child."
Will daughter Coco be popping up in the new movie? Maybe. Sorta.
"She may be in a picture somewhere," Arquette teases.
Joining the original cast are Emma Roberts and Hayden Panettiere, among others. "It's weird. All these kids are turning 21 on the set—or not even that," Arquette says. "I've gone out a few times with them, and Courteney's like, 'David, you're not a kid anymore.' I'm like, 'I know, but I still feel like one.' "
And that certainly will come in handy with David Arquette Presents: Beacher's Madhouse, a new nightclub-meets-theater venue he's opening at the Hollywood Roosevelt Hotel with Las Vegas entertainment impresario Jeff Beacher. Madhouse  will include burlesque dancers, live animals, acrobats, contortionists, fire-breathers, VIP seating in oversize birdcages…you get the point.
"We're trying to bring a little showmanship to Hollywood," Arquette said. "My family goes back to vaudeville, so it's sort of in my blood to do live performance."
Also on Arquette's agenda is tonight's screening of The Butler's in Love, a short he directed, at the HollyShorts Film Festival in L.A. and Inmoo, a website he cofounded that's dedicated to showcasing indie films. "The real germ of it is that we wanted to create a website that helps support filmmakers, where any of the advertising revenue that we get, we split 50-50 with the producers of the films," Arquette explained. "So you don't have to pay for it. You just have to sit through a couple of commercials."