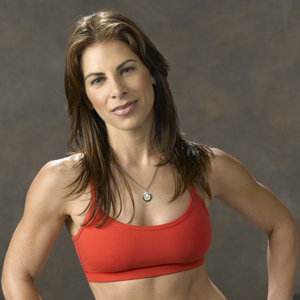 NBC
If Jillian Michaels had a dime for every time she's been sued this year...
Well, she'd only have 40 cents, but still.
The Biggest Loser's entrepreneurial star trainer was slapped with her fourth lawsuit of 2010 Wednesday, this one claiming that Michaels' Triple Process Total Body Detox & Cleanse product "just might kill you."
The female plaintiff, who identifies herself only by the initials R.D. for "fear of retaliation of harassment," doesn't claim to have been adversely affected by the stuff herself, but instead dissects the ingredients and points out all the alleged possibilities for disaster:
Irish moss powder "causes gastrointestinal ulcers" and is "so toxic that it is the gel commonly applied to aircraft wings to dissolve ice"; bearberry is "known to cause nausea and vomiting"; yarrow is "a toxic lawn weed that causes dermatitis."
Etc.
Aside from wanting every bottle of Triple Process designated unsafe with a skull-and-crossbones label (not really), R.D. is demanding $10 million from Michaels and Thin Care International for "actively and fraudulently" conspiring to hide the so-called lethalness of their product.
Though it sounds as if anyone with access to Google is free to draw their own conclusions.
Already in 2010, Michaels has been sued for endorsing a "potentially lethal" fat burner that also, incidentally, supposedly doesn't work; and for alleged false advertising by two sets of plaintiffs who were angered by the so-called ineffectiveness of Jillian Michaels Maximum Strength Calorie Control.
Sounds like the civil court clerks are the ones burning maximum calories these days.
________
Here's hoping all the Hot Bods 2010 are happy and healthy.