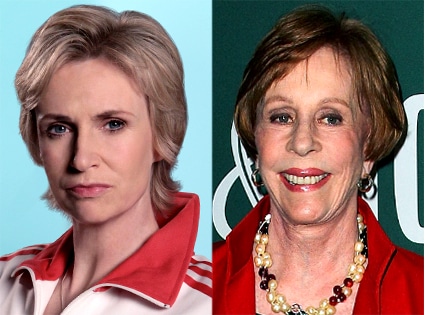 Jeffrey Ufberg/WireImage; Matthias Clamer/FOX
OK, this one better turn out to be true!
EW.com reports that Carol Burnett is coming on Glee to play the mother of Sue Sylvester (Jane Lynch), which is just about the best casting news since, well, ever.
But before you pop the champagne (or iron tablet) in celebration, you should know:
According to Glee sources, Burnett is in talks to come on the show, but "there is no deal in place yet."
We're assuming it'll all go through, though—fingers crossed!—'cause apparently Burnett is a diehard fan!
Burnett revealed recently that she had no interest in hosting Saturday Night Live (despite more than 100,000 fans campaigning for her on Facebook) but would jump at the chance to do 30 Rock or...you guessed it, Glee!
"I would definitely do [Glee]," Burnett said. "I'd do whatever they wanted me to, but I'd like to have a few scenes with Jane Lynch. I love her."
Ahhh. The universe is unfolding as it should.
One caveat though: Sources tell me the folks at Pushing Daisies negotiated with Burnett a couple seasons back to play Chi McBride's mother, and the deal didn't end up happening. So if the Glee deal does go through, Sue Sylvester has all the more reason to gloat—and push a kid into a locker in triumph.
We'll be talking to Jane herself about Carol and more today, so if you have questions, tweet them to @kristindsantos.
Follow me on Twitter @kristindsantos for more Gleekalicious goods.
________
You saw all this awesome Glee video from the big Glee party the other night, right? What are you waiting for?!