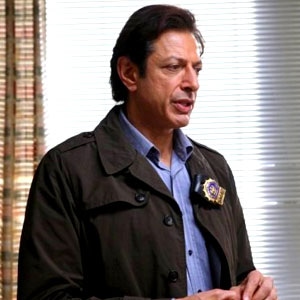 Eric Liebowitz/USA Network
There will be far fewer ironic smirks on Law & Order: Criminal Intent from now on.
Jeff Goldblum's rep announced Tuesday that the quirky star is leaving after only two seasons on the USA branch of Dick Wolf's simultaneously expanding and contracting crime-procedural syndicate.
No hard feelings, he's just...leaving.
Variety reported today that Goldblum's contract was up and, according to his rep, he decided to walk instead of renegotiate because of the uncertainty "surrounding the show's future."
Wolf's empire did indeed crumble a bit this spring with the cancellation of the original Law & Order. Law & Order: SVU is back in production, but USA hasn't decided on whether or not to order up a 10th season of Criminal Intent, which has always been the lowest-rated of the three.
But Wolf and NBC sound pumped about possible franchise reviver Law & Order: Los Angeles, which stars Skeet Ulrich, Alfred Molina and Terrence Howard.
None of whom are exactly Jeff Goldblum, but still.