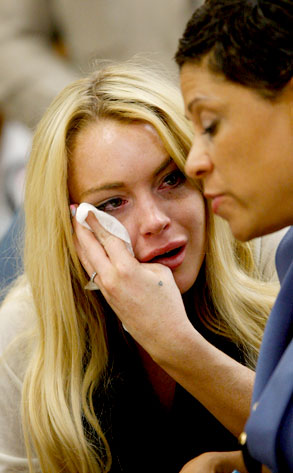 David McNew/Getty Images
Dear Ted:
Something just occurred to me watching the whole Lindsay Lohan sitch. She's apparently broke, with no insurance. The 90 days in rehab are paid for by the state, no? I was just thinking, maybe she wanted to get in front of a judge to get the help she needs but just didn't count on actually having to do jail time. That's why she was crying. Am I right?
—Jeff
Dear Lo-Planned Out:
Jeff, remember we're talking about Lindsay here—a gal who never thinks she does anything wrong and will always blame someone else when she gets caught. Linds thought she would march right out of Revel's courthouse with, at most, a slap on the wrist. La Lohan still doesn't want the help that (we all know!) she needs.
Dear Ted:
Shia LaBeouf and Carey Mulligan are such an odd couple, don't you think? I don't think they'll last. Will they?
—Ailish
Dear Cutesy Couple:
Really, A? Team Awful totally loves these two together—the real deal, for sure! Plus, they're not as mismatched as you may think; they definitely compliment each other. Carey is a catch too, so Shia had better hold onto her.
Dear Ted:
What is the deal with Summit making us wait a year after the first part of Breaking Dawn for the second part? Even the Harry Potter producers are only waiting six months between Deathly Hallows parts one and two. Aren't they filming both parts at once?
—Susan