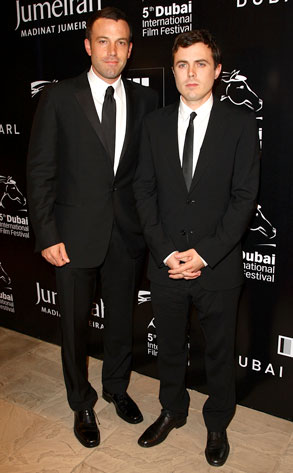 Gareth Cattermole/Getty Images
Dear Ted:
My imaginary Great Dane says "rut ro!" regarding the Affleck brothers. Is the poo about to hit the fan?
—SeaBee
Dear Brothers Grim:
Why Casey's sexual-harassment s--t may be hitting the proverbial fan right now, Ben is fairing far better. He has not one but two flicks coming out that look more than decent (and both utilize some awesome accents, too!), and isn't anywhere near the doghouse with wifey Jennifer Garner. She knows how to run a tight ship; Ben would never get away with any of the antics his bro is accused of.
Dear Ted:
What do you think of Lindsay Lohan released "for good behavior"? And will rehab help her? I think there are cases with no solutions, and this may be one of those.
—Nikki
Dear Lynwood Leftovers:
It was less "good behavior" (is Linds even capable of that?) and more due to overcrowding. No one expected her to serve the full sentence because it was a "nonviolent" crime. Do I think she learned her lesson from her stint in jail? No, she wined about how hard it was on the inside, but special treatment—and there was some, trust—isn't going to change her sense of entitlement.
Dear Ted:
Nikki Reed too pretty...are you kidding? Kristen Stewart is gorgeous; Nikki is not. You are losing every ounce of credibility with so many of us. Do you want to be Perez Hilton? He is a lowlife and you better pray that you do not follow down that vile path. Watch your step with Garrett...
—Kristen