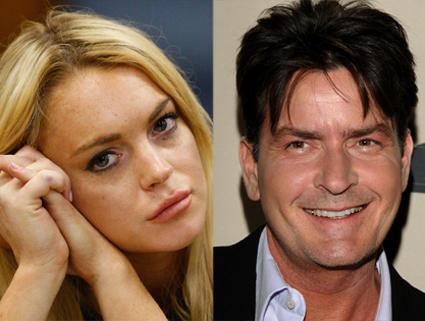 David McNew/Getty Images; Mark Sullivan/WireImage
Double standard alert! LiLo gets prison time for a victimless crime, and Charlie Sheen gets rehab after basically assaulting his wife? Is this about Lindsay's gender, Sheen being more famous than Lindsay, or what?
—Thoroughbred, via the Answer B!tch inbox
Now, let's not be too hard on Sheen. He'll have to suffer under that bright sun whenever he takes a cigarette break between rehab treatments in Malibu. And the sun is no joke! It's hot!
As far as why Sheen isn't doing any jail time, while Lohan did 14 days out of a 90-day jail sentence, not including about three months in rehab—the reasons my surprise you:
First of all, Lohan didn't go to jail because of her "victimless," as you put it, DUI. (It's was Lohan's own dumb luck that she didn't injure someone, or worse.) No, Judge Marsha Revel jailed Lohan because the actress violated her probation stemming from said DUI. And that, defense attorney and women's rights activist Gloria Allred tells me, happens quite often.
"When someone violates probation they usually end up in custody," she tells me. "That's really not a surprise."
Allred also wasn't shocked by Sheen's kid-glove treatment.
Leniency toward batterers is a larger problem that has little to do with Sheen's celebrity status, she says. In fact, Allred tells me, she wrote up a press statement expressing outrage at Sheen's light sentence before it was even announced; that's how sure she was that the judge would go easy on the actor.
"Sheen should have spent time in jail," says Allred, who represents one of the officers who responded to the Sheen incident. "There's a lot of lip service to domestic violence by the authorities. The message is that there aren't really consequences to battering a spouse or loved one."
In fact, gender, and even celebrity, probably had little to do with either sentence, defense attorney Elizabeth Kelley tells me.
Instead, Kelley notes other factors.
Lohan "was perceived as flouting the authority of the court," Kelley tells me. "She was out partying, claiming her SCRAM went off because someone spilled a drink on her, she fudged attendance on her alcohol education classes."
Sheen, on the other hand, "put his head down and went back to work on Two and a Half Men." (His rep confirms Sheen was back on set today as scheduled.)
Such behavior is not lost on judges, Kelley tells me.
Secondly, the woman on the other end of Sheen's wrath, wife Brooke Mueller, hasn't exactly jumped at the chance to help prosecute the actor. And that, in turn, probably hampered any prosecutorial attempt to jail Sheen.
"There is only so far that a prosecutor can go in a domestic violence case when you have a victim who doesn't want to testify and who isn't frothing at the mouth to help the prosecution," Kelley says.
Does that mean that Sheen's celebrity had nothing to do with his rehab "sentence"?
No. It could still be a factor. But if so, it wasn't the only one.