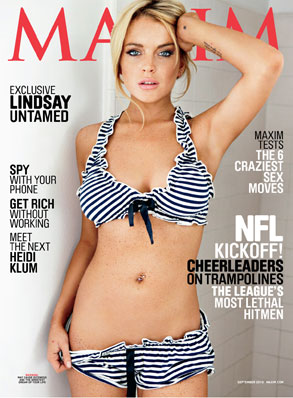 Matt Jones/Maxim.com
No one can promote a jail stint like Lindsay Lohan.
While just last month she donned a bikini or three and left her fate in the hands of German translators, she's back speaking our language for the September cover of Maxim, which was shot on June 30, a mere three weeks before her 14-day lockup.
Her wardrobe, too, went for variations on the theme as she embraced her impending jail stint with a cheeky black-and-white striped bikini. And her words? Well, let's just say it's a shame she can't blame the translators for these gems.