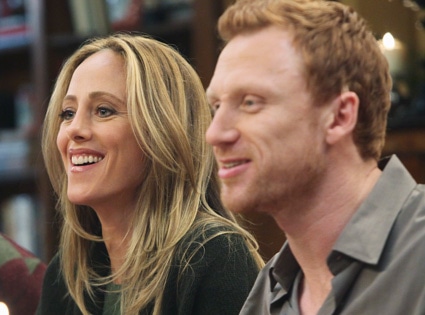 ABC/Danny Feld
Hooray!
That's all that can be said on behalf of you fans who were not-so-secretly hoping for the death of a certain love triangle (one that 30% of TV fans are "so totally over") on Grey's Anatomy.
And if you're an Office fan, I have one giant bear-hug of a scoop for you, too—thanks to the stars we love. Plus, the latest on Smallville, 90210, True Blood and more. So get on in here...
Jake from Aspen, Colo.: Any idea what's happening in Michael Scott's life since this is his last year at Dunder Mifflin?
What? Steve Carrell's leaving the show? Nobody told us! Thank god Angela Kinsey filled us in: "Michael Scott will leave. Which is gonna make for great television, because how's he gonna leave? Does he get fired? Does he come up with some ridiculous reason to quit?" she spitballs to us during NBC TCA's press rounds. Michael may be leaving, but not before some people come back, and not just Holly. "Michael gets a medical condition and he has to find his lovers to talk to them about what's going on. So, we're going to see Jan [Melora Hardin] coming back," Angela spills.
Luca in Santa Monica, Calif.: Seriously? The Office without Michael Scott? Can it be done?
His co-stars are all saying that yes, it will happen! "I don't think it will end at all, because I think there's so much to keep going," Ellie says honestly. Angela dittos her cast member. "I really think as a cast, we feel like an ensemble, and the writers write us that way," Angela tells us. "I know there's usually a main Michael Scott storyline, but we have such a great group of people, I think that anyone could really step up to take on a bigger role of running Scranton branch." We vote for Kevin! Who do you vote for?
________
And check out what the always hilarious Leslie David Baker and Phyllis Smith have to say in this exclusive video interview, complete with bear-hug plan of attack:
Wendell: Did you catch up with Scott Patterson at the NBC party? How about Lauren Graham? Yes, I'm still having a hard time letting Gilmore Girls go.
Aren't we all? Which is why you should check out this video below in which Scott confirms to me that his freaky-deeky new mysterious show, The Event, is all about: a Lorelai and Luke reunion! (Sorry to spoil it for you.) And yes, they were both at the party and the fangirl in me did many an inner squeal.
Jace in Oxford: Any chance Maura Tierney will pop up on Parenthood anytime soon?
Lauren Graham is snug as a bug over on Parenthood, and Maura is ready to kickass on her new ABC show The Whole Truth. But that doesn't mean the folks in the 'hood aren't still partial to their onetime costar. In fact, there is still a picture of Maura in one of the kitchens on the show! And since we know you care, Maura is happy and healthy and excited to get back to work. "It's a really wonderful feeling to know that people care about something that you do," she tells us. "[And] it's a priority for me now to work with people I really like and watch."
Jackie in Los Angeles: I'm so excited to see Maura Tierney back on my TV. Can you tell me anything about her new show The Whole Truth?
First, the lovely Miss Maura isn't the only pretty face in The Whole Truth. Numb3rs star Rob Morrow joins her back on the small screen this fall, and in case you're concerned, this is not your normal procedural. "Every week you get to decide whose case you're liking, and if my case a stronger case or Rob's case is stronger," Maura tells us. "Unfortunately in life, justice is not always achieved. The bad guys don't always get convicted and the good guys don't always succeed, so the audience is privy to that." Plus, Maura's got a teensy bit of insight on the topic—her dad is a lawyer and her brother just passed the bar.
Kristin in Laguna Beach, Calif.: I need Modern Family back in my life. Do you have any scoop to give until it comes back for season two?
At the TCA Press Tour, Emmy nominees Ty Burrell and Sofia Vergara told us they could not wait to get back to work (starting today!), so they are right there with you. And because Ty was sporting a beard that he had to shave off come shooting time, he and Sofia brainstormed a way to keep it for Modern Family. "We could write it into the first episode somehow," he reasons. "Phil's been in the jungle…" "…in Colombia," adds Sofia with a laugh. I bet that would be an awesome episode. Ty and Sofia also let us know that the gang has had a table read for just one episode, so it looks like we'll have to wait until later before we can drop more spoiler bombs on you.
Tom in Dallas: Is it true that Jimmy Johnson is going to be on this season of Survivor? Stay tuned: We will reveal the identities of all the Survivor: Nicaragua Castaways next Monday, Aug. 9 at 6 a.m. PT. We interviewed all 20 contestants—plus Jeff Probst—on site in Nicaragua during their first week of filming and have tons of scoop to spill...but we are sworn to secrecy until next week.
Bradley in Missouri: What happened to that Glee audition process on MySpace? Has anyone been chosen?
Right now, Ryan Murphy is focusing on core character development, so no one has won the big prize yet, but Fox exec Kevin Reilly told reporters Monday morning that it's still very much in the process. " The characters Ryan originally envisioned will be added later [in season two]." So keep your eyes peeled!
Rain in Ohio: Will Adrienne Palicki be back on Friday Night Lights?
She tells us…yes! She confirmed today while promoting her new show Lonestar that she just shot the last two episodes of the upcoming and (likely last ever) season, adding that it was basically like a "big family reunion" and that nearly every original cast member was there.
Jessica in Ohio: Just heard David Cross has joined Will Arnett's new show on Fox. So excited!
Felicity is right there with you! Er, make that the extremely talented (don't you dare say otherwise!) Keri Russell, who will play the girlfriend of David's character on the new Running Wilde, told us this morning: "We fly home this afternoon and start shooting at 6 a.m. Tuesday. He's amazing and I'm so excited!" (And be sure to check out our earlier chat with show runner Mitch Hurwitz here for more news!)
Max in New York: Any fun stuff to share about Matthew Perry's new ABC show Mr. Sunshine?
It's all pretty fun (as evidenced here), but Matthew himself is looking forward to one scene in particular a few episodes in: "It's women, in lingerie, playing football." And really, what guy could say no to that? He also teased casting his Fools Rush In costar Salma Hayek in the role of quarterback, but yeah, that was a joke.
ABC/Ron Tom; ABC/Eric McCandless; ABC/Ron Tom
Justin in Rockford, Ill.: I am so over that whole Teddy-Owen-Christina triangle on Grey's Anatomy. Is it over? Please tell me that it's over!
I can't tell you, but Kim Raver can. And she can report that, yes, "for now, the triangle with Owen and Christina is done." Hollller! Let's chest bump on that one, shall we? Plus, she tells us that we'll get to see Teddy try her hand at romance—with someone new, who is presumably named neither Kevin nor McKidd. "We have some people coming in, very talented, very good looking," she says with a sly smile. "So, Teddy gets to dive into that world, which will be a lot of fun to watch." And watch we will.
Carrisa in St. George, UT.: Did Jessica Capshaw tell you anything else about the new season of Grey's Anatomy? Thanks for the great scoop from her!
That she did! "The main thing you're going to see [when Grey's returns] is who delivers and who doesn't deliver on promises made during the season finale," she tells us. "It's definitely a come-to-Jesus moment for everybody. 'Sh*t or get off the pot.' And the season builds from there. Shonda [Rimes] and the writers found a really beautiful, delicate middle ground from which to spring to the next season. It's going to be really great!"
Please tell me you have some leftover Smallville scoop from Comic-Con?
Justin Hartley is hopping on the Tom Welling bandwagon and taking a stab at directing an episode later this year. "I'm directing episode 20, I think," he told us in SanDiego. "That may change, but it's what I've been told. It's really late in the game so I couldn't really mess things up at that point, right? Or I could ruin it. People might say, 'What is that?! Oh it's Justin's footprint, great. '" Um, we doubt that, but it's cute to know he's a little nervous. And Tom's directing another ep this season, too, so good things are happening all around!
Janine in Yucaipa, Calif.: Any word on when we'll see Clark in the actual Superman suit on Smallville?
There's no exact "when" available at the moment (although Bryan Petersen and Kelly Souders did say during Comic-Con that we will see it in some form in season 10), but Tom Welling tells us this: " Whatever we do, I want to make sure we earn the suit at the end." So expect to see Clark going through some big things before he dons the blue and red.
Joey in Grand Rapids, Mich.: Loved your Bones scoop! Anything else you can spill?
Well, I'm heading to interview David and Emily right now at the Fox party, so stand by! In the meantime, we know we'll be seeing Booth in Afghanistan, but did you know that Emily Deschanel is directing that episode? While talking to us at Comic-Con, they hadn't started filming those episodes quite yet, but Emily had been to the Afghanistan set in Los Angeles to scout it out. "It's very hot," she informs David. "I do not envy you." So, a shirtless scene then, right?
Gaz Shirley, PacificCoastNews.com
Peggy in Santa Barbara, Calif.: I'm really worried that with the shocking Dexter finale, my favorite serial killer will be totally different next season. Can you ease my mind?
Dexter will be dark this season. Very dark. But, says new show runner Chip Johannesson, it might be a good dark—like a throwback to the Dex of yesteryear. "In a weird way a big weight has been lifted and he's back to the Dexter we know and love from the first season."
 
Lizzy in Memphis, Tenn.: How does Taylor Kitsch's storyline wrap up on the fourth season of Friday Night Lights? Everything works out, right?
Er, sure. Happy endings are just everywhere in Dillon. And unicorns really leap over rainbows to run wild with puppies that chase bunny rabbits. Come on! You know with the combo of the chop shop and the birth of Billy's child that something bad has to happen. It's the perfect storm, and the perfect opportunity for Taylor to exit with an amazing performance. I'm telling this not to hurt you, but to prepare you. Someone has to do it, after all.
Betsy in Idaho: Any other Cougar Town scoop to spill?
S#*! My Dad Says' loss is Cougar Town's gain, because Ryan Devlin will definitely be back as Laurie's boytoy Smith Jerrod on the sophomore series this fall, big boss Bill Lawrence tells us. Hell to the yes!
Kelly in Austin, Texas: Can you talk about the 90210 premiere and where things are when it returns?
Better yet, well let Michael Steger (Navid) fill you in: "It starts off strongly with Naomi's character dealing with how it left off the season finale," referring of course to the perceived rape in the season finale. And as for that sicko teacher, Michael says: "It's a pretty intense storyline, and he's still around." Still very much around, we're hearing.
Reggie: Is it true that one of the main guys will be gay on 90210 this season?
Yes, it is.
Hannah in Richmond, VA.: Thanks for all the Castle scoop. Nathan Fillion is my boyfriend. Can I get some more goods on the new season?
He's your boyfriend? I guess we can share. Well, you saw that the will they, won't they aspect of Kate and Castle hits a real snag when Kate arrests him in the season opener. Bummer. But the writers told us at Comic-Con that they definitely love playing with that relationship and all the push pull that comes with it, so prepare for more sexual tension! Hooray!
Jessie in Chicago, Ill.: Castle news, if you got it.
Castle's daughter Alexis will be all up in the dating world next season! And even though she takes care of her dad more than he takes care of her, we'll get to see somewhat of a father figure from Castle. And how does Nathan think his character will deal with his daughter's dating life? "I'm sure he'll take it real well," he says sarcastically. Can't wait to see Castle chase off boys with a shotgun!
Jenna in Flemington, N.J.: Do you have any scoop on Psych?
We're gonna need a Speak 'n Spell and seven pounds of mashed potatoes—that's how much scoop we got from the Psych crew after their amazing panel at Comic-Con, including more details on their upcoming Twin Peaks homage. "It's my favorite TV show of all-time," said star and episode cowriter James Roday, adding, "I think we're going to be able to deliver on a promise of several Twin Peaks alum" in the cast. "We're hoping that we can somehow work Ray Wise [who starred as a priest in last season's Exorcist-themed ep] back into it," said show runner Steve Franks. Most important, said Franks: "There will be pie! And there will be a woman of some sort carrying some sort of log."
Elizabeth in Knoxville, Tenn.: Do you know anything about Psych? I'm excited for some Shawn and Gus psychic detectiving.
Mr. Spencer (James Roday) and his associate (Dulé Hill) will square off against their nemesis Despereaux again in the winter season premiere, Psych's Steve Franks told us at Comic-Con. The detectiving duo return to Canada to extradite the criminal mastermind back to the United States, and "let's just say, stuff happens in this episode," Franks said. "If we get him, Cary Elwes is coming back to play Despereaux."
Nevin in Atlanta: Good lord, True Blood is offing people left and right! Can you tell us what's coming up next?
You've probably heard 90210's Michael Steger is stopping by True Blood later this season, and this new gig is a far cry from his West Bev sleuth. "I'm a drug runaway who has a very interesting trade that feeds into his drug addiction and his lifestyle.," Michael tells us. "It's a really dark youth and he's just a lost soul. I meet the King of Mississippi, and I resemble his love of 700 years. They have an interesting chemistry." Whoa, whoa, whoa—what about Talbot?!
Wendy in Glendale: How does the Jeff and Annie finale kiss affect Troy and Annie on Community?
We're not going to lie. He's going to be pretty bummed. But really, it's Annie who's struggling to deal with the makeout sesh. "Her emotions will run high either way," Alison Brie tells us, "But Annie is so impressionable!"
Kellie from Las Vegas, Nev.: The Office. I only care about one couple in Scranton: Dwight and Angela. What's the word?
Babies! No, seriously. "They start this season with a procreation contract. And Angela is very business like, so she's determined to have her "sex appointments" with Dwight in order for procreation," Angela tells us. Meaning, Angela flat-out corners Dwight about babies. "She does come up to him and they have a system that I don't want to reveal, but it's funny." We hope it doesn't involve trading beets for sex. Actually, that'd be kind of awesome…
Gracie in West Lafayette, Ind.: The cutest couple on TV is Andy and Erin from The Office! Is there hope for them?
Hate to break it to you, but after getting the scoop from Ellie Kemper, it doesn't look so good for Andy and Erin fans. "I'll tell you, at least in the beginning, I think there is romance for Erin, but not with Andy," she reluctantly reveals. In that same answer, she also mentions Zach Woods coming on full time, so we can only assume Erin and Gabe will be doing some work outside the office, if you know what I mean. "I think there's some love between the two of them. I don't know if I can say too much!" Ellie laughs. Darling, you just said more than enough.
--Additional reporting by Megan Masters, Drusilla Moorhouse and Jenna Mullins
I'm heading to the Fox party right now. If you want to know anything from the casts of Glee, Bones, House, Fringe, etc. tweet me at @kristindsantos--STAT! Then check back for scoop and video tomorrow.
________
You saw what Randy Jackson told us about the American Idol casting rumors, right?