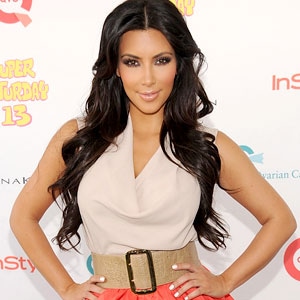 Dimitrios Kambouris/Wireimage
We're not sure which part of "stay away" Kim Kardashian's alleged stalker doesn't understand, but here's hoping he won't be free long enough for us to find out.
Kim's lawyer, Shawn Chapman Holley (quite the busy bee these days), tells E! News that the E! reality star is once again having problems with her alleged stalker, Dennis Shaun Bowman, after he apparently discovered this newfangled thing—perhaps you've heard of it?—called Twitter.
You see, Kardashian obtained a restraining order against Bowman back in February. The document, in place until 2013, theoretically prevents the beyond-obsessed fan from contacting her in any way for at least three more years. So imagine her surprise (and fear) when he recently began contacting her on Twitter.
Holley, naturally, is taking the violation straight to police.
"Law enforcement has been very involved in this matter from the start and we are speaking with the detective familiar with the case to determine appropriate next steps," she told E! News.
Kardashian has not addressed the matter on her Twitter account, nor is she expected to, as anyone versed in Stalker 101 can tell you. (No publicity is good publicity.)
But she's not gonna let an alleged nut job get her down, as evidenced by the tweets she has decided to let loose upon her adoring public.
"Its a new week!" she wrote this morning. "I want to focus on me this week, is that selfish? Starting with going extra hard in the gym this week! Let's go!"