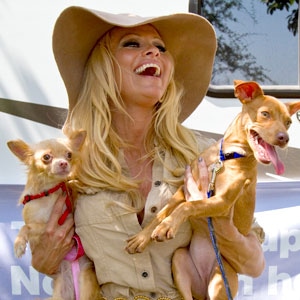 Skip Bolen/WireImage
Pamela Anderson is in the doghouse again. And she doesn't mind one bit.
Anderson, the honorary chairman of the People for the Ethical Treatment of Animals, was in New Orleans earlier today to help relocate about 50 dogs from Louisiana to Virginia.
Why the big move?
Shelters in the area have apparently become more crowded than ever since the BP oil spill. Many pets are being brought in by people who can longer care for them after losing their jobs and income because of the spill.
"People can't afford to feed their families, so the family member that gets left behind and has to go is the pet," Anderson told me before flying to New Orleans late last night.
Once the dogs are in Virginia, PETA will work with the Virginia Beach SPCA to find homes for them. "There are so many more pets than homes, but we think that by bringing attention to it, people are going to be inspired to help and adopt some," Anderson said.
Anderson is leading by example. She adopted two small dogs this morning and named them after actresses Gina Lollobrigida and Brigitte Bardot.
Follow Marc Malkin on Twitter.
________
Pamela's not the only star with a big heart. See all your favorite celebrities giving back in our Do-Gooder Gallery!