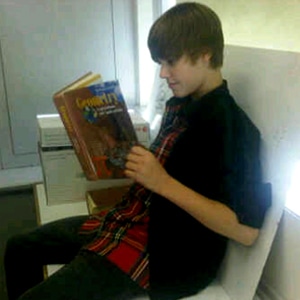 Twitter
Update: "It isn't a memoir," tweets Justin Bieber, who concedes he's a little young for that. "i teamed up with this amazing photographer robert and he has been taking pictures behind the scenes from before the tour. so the book will include all those pics and im going to tell the story of all that led up from rehearsals until the first night of the tour."
________
The same literary mind that brought the world such thought-provoking, zeitgeist-capturing lyrics as "baby, baby, baby," is once sharing his gift for the written word as Justin Bieber has announced plans to publish a memoir.
The colon-happy Justin Bieber: First Step 2 Forever: My Story will cover every one of his 16 years, with particular emphasis on the last few, when he went from YouTube uploader to global superstar.
We know what you're thinking: he can write? Sorry, haters, but it turns out he doesn't have to! And not just because he'll hire a ghostwriter: his memoir will be illustrated.
In announcing the publishing coup, HarperCollins boasted that the book will be heavy (we're guessing very, very heavy) on exclusive, never-before-seen photos and is a must for any Belieber of allowance-bearing age.
"Every day I wake up and count my blessings," Bieber said. "My fans have played such a large part in all of this and they help live my dreams every day. I'm excited to share just a little bit more of my world with them through this book.
"Between the behind-the-scenes pictures and the story I think this is going to be something they can all enjoy. This is just another way for me to say thank you to my fans."
The book, due out in October, will be priced at $21.99.