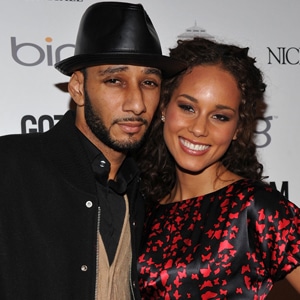 Bryan Bedder/Getty Images
The weekend bridal wave continues, and Alicia Keys has proven you don't need a president in attendance to make your big day something special.
The 29-year-old Grammy-sanctioned star tied the knot with producer beau Swizz Beatz, 31, Saturday in a small, intimate ceremony on the French island of Corsica officiated by Deepak Chopra with nary a Secret Serviceman in sight.
The duo, who are expecting their first child together later this year, have been plagued by preemptive marital rumors the past few weeks...
Us Weekly went so far as to marry them off on Friday, only to rescind the report a few hours later.
Mr. Beatz himself—aka Kasseem Dean—was also forced to deny that the couple had secret plans to tie the knot on a yacht the weekend before, saying at the time that, "People are very creative [with gossip], but it's cool. We have fun with this stuff.
"[The rumors are that] we're taking a boat to do this and we're like, 'Man, who's paying for that?' "
Beatz, meanwhile, had a couple of tweets Saturday that could be interpreted as celebratory.
The first one simply said, "Wowwwwwwwwww," while another a few hours later proclaimed: " It's a brand new day :) I feel like Nas and Diddy song :) love y'all and blessing!"
Keys donned a jeweled headband and baby bump-disguising single-shoulder ivory silk "goddess" gown by Vera Wang. The groom sported a white jacket, pink shirt, black pants and white shoes, while his eldest son, Prince Nasir Dean, looked dapper in an all-black tuxedo.
Bono and Queen Latifah were among those on hand, according to MTV UK.
Once the marriage is official (while the celebration may have taken place in Europe, the couple still needs to have a civil ceremony in the U.S. to make it count), it will be the first for Keys and second for Beatz, whose marriage to singer Mashonda Tifrere ended in divorce in 2008, about the time he and Keys started stepping out together (and a year after the birth of his and Tifrere's son, Kasseem Dean Jr.).
Let's hope the newlyweds make some sweet music together.
(Originally published Aug. 1, 2010, at 8:28 a.m. PT)