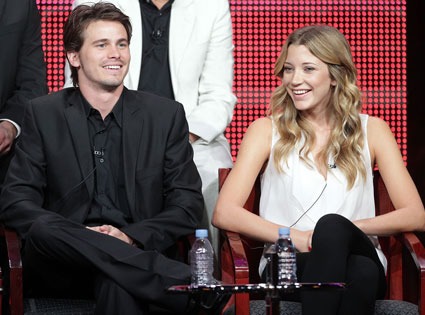 Frederick M. Brown/Getty Images
In case you haven't noticed, we here at Watch with Kristin are already fans of NBC's new conspiracy thriller, The Event.
But why should you watch this fall—besides the obvious guy (Jason Ritter, Blair Underwood) and gal (Sarah Roemer) eye-candy factor, of course?
Well, the cast and producers just met with reporters today in Bev Hills, and the message was clear:
They were all great shows, but this is not Heroes, Lost or the short-lived FlashForward. For better or worse, they're setting out to make The Event a different animal.
"The show is really designed to answer questions, to satisfy people, to keep them hooked, frankly," big boss Evan Katz tells reporters. "We're keeping mysteries open, but we're solving them. In the second episode, we're very clearly answering the two largest open questions in the pilot."
See? That's not Lost-y. (And for the record, we still worship Lost.)
Time-jumping to tell the story is a big part of The Event, too, but according to Evan: "There will be flashbacks, but the story will continue to thrust forward."
As for those looong hiatuses between new eps that break up the continuity of the story in certain shows? "We have tentpole benchmarks we are to hit, [and] we have these benchmarks planned out," executive producer Steve Stark says. "There will be a wonderful moment in [the 10th episode, before the first break] that will drive you to the next one."
Kristin will be interviewing the stars of The Event, Chuck, Community, The Office, Parks and Recreation and more at the big NBC TCA party tonight, so send any questions you have to @kristindsantos—and follow her tweets for scoop from the soiree.
________
Get scoop and video of The Event's stars at Comic-Con, including the crazy-likable Jason Ritter, right here.