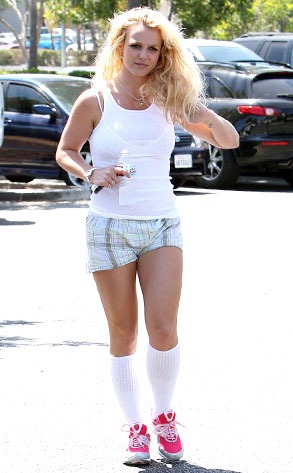 INFphoto.com
Britney Spears' horrible hairdos suddenly make a lot of sense.
Hollywood watchers wondered what the eff her hairstylist was thinking after the pop tart was snapped last week with a giant bald spot on the back of her head.
Well, apparently, Brit-Brit's a serial stylist switcher because management won't let her commit to just one.
"They don't want anyone getting close to her," a source tells E! News. "They won't use anyone who has done her hair in the past and won't let any current stylist see her more then three times."
We still say that's no excuse for looking bad! But, regardless, who are the star stylists who've tried to tame the messy mane only to be tossed aside?
Stylist George Papanikolas from Andy LeCompte salon, who worked directly with Brit during her Circus tour, tells E! he hasn't seen her since the tour ended.
Former stylists Rick Henry, Kim Vo, Roberta Romero (of Kim Vo) and Chris McMillan are no longer on the pop star's messy tresses either.
During the past year, Brit's been spotted at various salons including Nine One Zero salon and Byron & Tracey but doesn't appear to have a regular haunt.
Whichever mystery hair master did her 'do for her latest fragrance ad gets a gold star. We just wish Brit would start seeing them regularly (or at least get in three good visits).