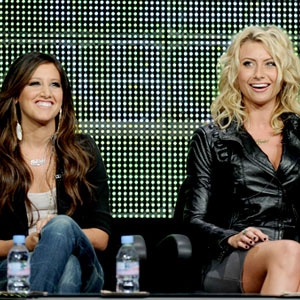 Mark Davis/PictureGroup via AP IMAGES
CW's fall programming tagline is "TV to talk about." But you guys don't want to hear us talk about the scoop we got on Smallville, Hellcats and Supernatural, right?
Oh, you do? OK, no need to swear. We'll give you the deets on your returning favorites, straight from the woman in charge, Dawn Ostroff, plus all the info on the highly anticipated (you voted!) Hellcats from the stars and executive producers...
Supernatural: Sam will be more like Dean and Dean will be more like Sam. Got that? Basically, their personalities will sort of switch in the next season. Plus, ready to meet their mom? She's a hunter, too.
CW Comedies: Ostroff is not in the market to develop sitcoms, but will continue to develop hourlong shows with comedy in them.
Killer Thriller Thursday Night: That is the name given to the pairing of The Vampire Diaries and Nikita on Thursdays. Catchy, eh? Dawn says putting them together will benefit both in the end.
Smallville: Executive producers have "left the door open" for Michael Rosenbaum to return as Lex Luther. So, cross those fingers extra hard. Aside from all the Comic-Con scoop, we also know they have the entire season planned out, and one word EPs dropped that described it? Fulfilling.
Hellcats
What It Is: Enter the world of competitive college cheerleading, with rebel cheerleader Marty, played by Aly Michalka, as your pilot. New for the fall.
Anti-Glee? No way. The cast and powers that be behind Hellcats think this show is for optimists and it inspires, if anything. "Dancing is a huge component, but it exists with one foot in the world of the characters. People are going to tune in for the central characters," EP Kevin Murphy says.
Law-Abiding Citizen: The prelaw storyline for Marty will be a huge factor throughout the season. Gale Harold will play her law professor and will be issuing a "three strikes" rule for Marty while she juggles both her academics and cheerleading.
Call Them Athletes, Dangit! EP Tom Welling thinks people will be surprised by all the athleticism in each episode. The cast also made a point to ensure critics that they are dedicated to showcasing "cheerleaders as athletes, working hard, and struggling through extreme workouts." So prepare to feel really bad about sitting on the couch while watching this show.
Graduated: Ashley Tisdale calls her Hellcats character Savannah "completely different" from her High School Musical role, Sharpay. On Savannah's list of attributes: Southern, Christian, very naive and a little bit soft.
So, will the fall programming from CW be TV to talk about? Well, now is as good a time as any to start the chatter. Go do so in the comments!
________
Keep up to date on all the TV action by following @KristinDSantos on Twitter.