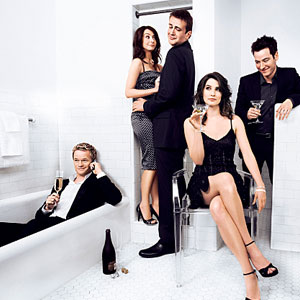 CBS
Spoiler alert! Ted Mosby is not a douche. If you've lost faith in the humanity that was How I Met Your Mother and Josh Radnor's lovable alter-ego, show running extraordinares Carter Bays and Craig Thomas are here to ease your minds.
"Ted will be absolutely un-douchey this year," Craig promised an, ahem, elite group of TCA reporters Wednesday night.
Oh, and we were also privy to a slew of upcoming HIMYM scoop including an emotional season six, a softer, gentler Barney and when that damn mom will actually be revealed...
In all fairness, we'd like to go on the record and say that we did not think Ted was "douchey" in season five—he was simply trying to "find himself." 
That said, Carter and Craig made a mea culpa of sorts about the CBS hit's fifth season, lamenting the fall of the beloved, and true love seeking, Ted, as well as the larger over-arcing emotional storylines fans had previously come to know and love.
"We set out to say, 'What if every episode, you hit the reset button at the end of the episode?'" Bays explained of the initial season five plan. "We had fun doing that, but I feel like that's not the show we wanted to do."
If you're surprised by this tidbit, join the club. While it was a teensy bit different, we thoroughly enjoyed last season and the "girl of the week" thing. However hearing what the guys have planned for year six, it's safe to say the HIMYM of yesteryear will be back come fall.
Explained Craig: "[Season six] is going to bear a lot more resemblance to season one or two. The characters are going to be having a lot of big things happen to them. We're diving into the heart and soul of this series again in a way that we didn't as much last year—and we're better writers when we do."
And what of the hot mama of the show's title? She may appear sooner than later. "That trick that we've done for five years—Is this one the mother?—we're going to put that trick to bed," Craig revealed. "You're going to learn some stuff in episode one that ends that particular gimmick." A to the men, brotha!
[Editor's note: That does not mean the Mother will be revealed. It simply means the is-it-isn't-it celeb guest star maybe-moms will lighten up a bit. Still cool though, right?]
On the relationship front, Craig and Carter confessed to a few more biggie reveals:
• In their minds, Robin (Cobie Smulders) and Ted aren't necessarily over. That said, they never anticipated the immense chemistry that arose between Barney and Robin, and would go back if they could and leave those two together a bit longer. The sad fact is, the scripts were written in advance, and that wasn't an option. And that said, Barney and Robin probably aren't done yet, either.
• Marshall (Jason Segel) and Lily (Alyson Hannigan) are definitely baby-bound this year. "It begins with night one, their first at-bat," Craig laughs. "We just get right into it right away. It affects the season a lot. [And] it's a season where by the end of the season everyone's lives will change dramatically."
• Ted will still be teaching, but there's a new job afoot and it will bring a very important gal into his life. He's hired on for a project involving the Goliath National Bank building, thus bringing Barney and Marshall into the mix, too. This gal will be a preservationist and Ted's "nemesis," but her arc this season will be significant.  
And now, a few other tidbits of fab information:
• Robin Sparkles returns! Part three of this amazing saga continues in season six, and this time the Canadian has a foe in Glitter, her yet-to-be-cast pop star rival. There will be costumes and there will be music. Craig and Carter have already written some little ditties. 
• Neil Patrick Harris might finally get that Emmy next season, thanks for a father-finding story arc this season. And no, it's not Bob Barker. "If we do it right, Neil will have a hard time picking his Emmy episode,"
 Craig mused. Added Carter: "We can say Barney's going to grow up this year in an entertaining way."
• Rachel Bilson will return, too. So yay!
Basically, you don't want to miss out when the season returns for about a million reasons—Robin Sparkles, hello?! Got it? Sound of on all of these HIMYM revelations below and stick around for more TV scoop throughout the weekend live from TCA.
________
PHOTOS: Snapped on Set: TV