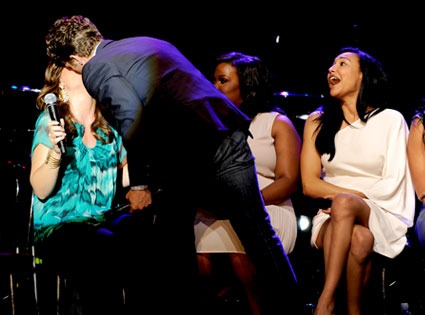 Frank Micelotta and Mark Davis/FOX
UPDATE, 5:10 p.m.: My longtime crush and favorite future husband of all time John Stamos just emailed me, "Is Matthew Morrison moving in on my action?" Gulp. Looks like these boys now have two love triangles on their hands! In other news, I'm going to go die now.
_____________________________________________________________________
Get ready, Gleeks. When you find out who Matthew Morrison was kissing last night in front of a live audience for Glee's un-freaking-believable event at the TV Academy (to celebrate their 19 Emmy nominations), you're so gonna want to bust the windows out her car.
Who is this new love interest? And what's in store for all the show's power couples: Will and Emma, Finn and Rachel, Artie and Tina, and Brittany and...Santana?!
I moderated the event, asking you fans' biggest romance Q's, and here is Part 1 of my Glee Scoop-a-Palooza...
But before I answer, will you promise not to bust the windows out my car?
Yep, 'tis true, as evidenced by the YouTube video that has now gone viral everywhere from my house to my office, Matthew Morrison kissed me. On stage. On the lips. And remarked on my "fine-tasting lip gloss."
What's that? You want to see it? OK, jeez, stop screaming! Here's a link to the fan video. And fine, I'll give you a few details.
WILL, EMMA AND EMMA'S NEW BOYFRIEND CARL (JOHN STAMOS)

Jayma Mays on Whether She Has Kissed John Stamos: "No." Is she looking forward to it? "Yes. I can't stop smiling when people say his name. It's very inappropriate...With a dentist like that, you kind of want to eat a lot of sugar."
Matthew Morrison on Who's Better-Looking: "I think John will win that battle. But if we have a dance-off, I might win that one. We're both fighting over Emma this season. I'm so excited to have him on the show. He's a buddy of mine and I can't wait." On who would win a hygiene-off: "Stamos, absolutely. He's playing a dentist!"
Executive Producer Brad Falchuk: "I think [Will and Emma's] relationship really grew over the first season and so much of it was dependent on Will not being available. And I think that's what was kind of so interesting about those two characters is like 'Hmmm, we kind of like each other but we don't have to commit to each other because you're not available.' And suddenly Will became available and it became much more complicated, and now she's not available, and so now it's even more complicated. So I think they'll explore all aspects of their relationship where these two people clearly care about each other, will maybe end up in each other's lives, but can't seem to kind of get it together."
FINN AND RACHEL
Brad Falchuk: "That relationship is so much pushing and pulling and pursuing and going after each other. And now they're together. So this season, it's delving into two worlds that are really trying to meld together, it's the slusher (and the) slushee. What happens when those two, Romeo and Juliet, fall in love? And we're also exploring the Rachel character who wants things so much. And what happens when the girl who wants things so much gets the things she wants? I think that's going to be really hard for that kind of girl. So we're excited to write for those two. And they will stay together. They will stay together."
Cory Monteith on Whether He's Excited to Have Gotten the Girl: "Oh yeah. Yes. Definitely. I'm all about 'Finnchel.' It sounds like a pastry doesn't it?" When I told the crowd Cory would be opening his chain of Finnchel's doughnut shops as a rival to Winchell's very soon, he cracked: "Definitely! Look for it in February!" and added that a Finnchel is a "delicious almond pastry with frosting on top." Buy your stock now!
Lea Michele on Getting to Play a Happy Couple: "I'm really excited. I think it's gonna be interesting to see what Rachel is like in a relationship as someone's girlfriend. I don't know, Ryan. I don' t know how long we can make this one last!"
Executive Producer Ryan Murphy: "One of the things I love about [Finn and Rachel] is how different they are. And how does a couple, when they lose, how do they react? Do they fight about it? Do they love each other more? I know people love Lea and Cory together and so we are giving them what they want."
Ryan on Whether the Virginity Lies Will Rear Their Ugly Heads and Cause Problems: "They may. They may. We'll see."
Ricky Savi/Getty Images for Fox
PUCK, RACHEL AND QUINN

Ryan Murphy on Whether "Puckleberry" Is Over: "Well, Rachel and Finn are gonna be good, but look at Mark, you know he's up to no good. Mark's gonna try to do something. So the question is, how will she resist? 
Mark Salling (Puck) on Whether Puck's Heart Is With Quinn (Dianna Agron): "Hopefully it's always going to be kind of a recurring affair. Now that the baby is not really in the picture, I'm curious to see where it's going to go, if anywhere. She's probably better off without him, as much as it pains me to say it."
Mark Salling on Whether Puck Has Been "Cleaning Any Pools" This Summer: "You got one? Actually I believe he's been cleaning pools for vasectomy money. It might be a good thing for Lima, Ohio."
Frazer Harrison/Getty Images
KURT AND MYSTERY NEW BOYFRIEND
Chris Colfer (Kurt) on Whether He's Been Screen-Testing Any Potential Love Interests: "No, thank God. That would feel like I was on the gay Bachelor so, no. We haven't cast anyone so no, I don't know anything."
Ryan Murphy: "The thing that I love is that character is education for so many people and I love that about it. I really want to see Kurt win. I want to see him be happy and be proud and be strong and I want to see him not be a victim. I want that character to be able to educate a whole bunch of parents and kids about what is possible. And I love the idea of Kurt being prom king."
Frank Micelotta and Mark Davis/FOX
BRITTANY AND SANTANA
Heather Morris and Naya Rivera on the Santana/Brittany Kiss That Ryan Murphy Said Is Coming: Heather: "We love each other." Naya: "I'm down, Ryan. It's all for the art." Heather: "It's all for the art. The arts matter...We're best friends so it wouldn't be weird or anything." Amber Riley [laughs]: "That's what best friends do!"
Albert Ortega/PictureGroup via AP IMAGES
ARTIE, TINA AND MIKE CHANG
Ryan Murphy: "This season begins with, Tina is now dating Mike Chang. Because Artie was just a bad boyfriend. He only wanted to watch Coming Home. So Tina's had it. She wants a man who pays attention to her needs. And it's a very very sweet story about a young boy who realizes 'Oh, that's maybe the love of my life and I could have done better.' And feels sick about it. So that's the story. Jenna [Ushkowitz] and Kevin [McHale] are very close and I want to play up that friendship. Kevin's not down with the story."
Kevin McHale (Artie): "No, I've been thinking and I kind of like it. Because  I'm thinking if Santana and Britney hook up, they might need someone else." Heather: "We've been working on this." Jenna to Heather: "I will fight you."
Harry Shum (Mike): "I just think it's nice that people will know that Mike Chang actually talks."
Wait! There is so much more. Stand by for Part 2 of Glee's Scoop-a-Palooza, with much more from the cast on what—and who?!—to expect in season two...So be sure to check back!
In the meantime, which couple are you rooting for this season? Hit our comments section.
________
Check out my Twitter @kristindsantos for loads of photos and tweets from last night's big Glee event.