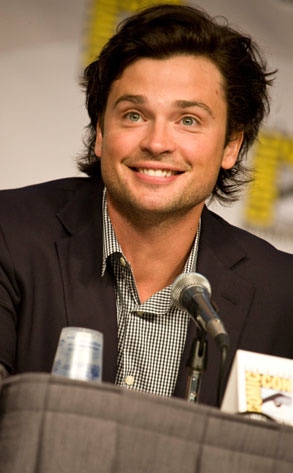 Wendy Redfern/Redferns/Getty Images
If you're feeling a teensy bit emotional about the impending end of Smallville—well, join the club.
Sorry, wish we could offer you some solace, but after the nine-season retrospective (new footage from year 10 included!) at Sunday morning's Comic-Con panel, we're still sitting here like blubbering idiots trying to pen this oh-so-informative scoop-fest for you. Wait, there actually is some solace in that, huh?
Here is what you fans need to know...
Since you asked (and asked and asked via hundreds of Twitter @replies), we did our best to get the dirt on your favorite Smallville lovebirds, Chloe (Alison Mack) and Oliver (Justin Hartley). And luckily, we did!
According to show runner Kelly Souders, Alison fans need not fret—that kickass chicky will be back in a big way.
"We have a really strong story for her this season," Kelly tells us. "You will see Chloe this season again [beyond the premiere]. Plus, she has a relationship with Oliver and she's got to tie that up. That's just flowing in the wind! Chlollie fans will be happy—they will get their time onscreen."
Go ahead—we'll give you guys a minute to regroup after that joyous news.
"That relationship has been a lot of fun for us to write," Kelly continues, "and I know it's been really fun for Justin and Alison. They've had a good time evolving, and [that relationship] is not going to stall out. They're so interesting together, we love them onscreen. So we're Chlollie fans, too!"
As for the actual number of episodes Alison will appear in, it's still up in the air, but both Kelly and show runner Brian Peterson promise it will be for as many as humanly possible. Plus, Chloe will be introduced in comic books soon too, so be on the lookout for that.
Justin Hartley is eager to get his onscreen galpal back, too. "The way it starts off is Oliver's looking for Chloe, trying to find out who took her, what happened," he spills, "He gets those answers rather quickly. And from then on it's a quest to find her or prove those people wrong. He doesn't believe them. But I love Chlollie. It works, right?"
Oh, and did you guys want some news about Lois (Erica Durance) and Clark (Tom Welling), too?
Erica tells us Clois will be in a good place when Smallville returns Sept. 24. "Lois knows Clark's secret, and that's mind-blowing, but it's an affirmation she has because I believe she's always known they were the same person," she laughs.
"I would go up against anyone about that. And now Lois is embracing it and finding out where she fits in his world now that he's this rock star."
But ever the feminista, Erica has plans for her alter ego beyond the romance: "Hopefully she will continue to go forward, and continue her individual path and being that undercover reporter and believing in herself—not just relying on the fact that he's a superhero. I want her to still continue to save herself." Have we mentioned that both Erica and Lois are pretty badass?
Comic-Con's Smallville panel was bubbling over with too much scoop? Not possible, but here's your quick fix on everything else you need to know:
• John Schneider (Jonathan Kent) is back, and popped up on the panel to surprise fans! "I wish I were more like him in my real life," John gushed of his character. What you might not have known is that he'll be back for more than one episode and told us that how he reappears is still a mystery to him. "I don't know if that means I'm a spirit. I'm not really sure exactly what I am; real, imaginary, memory? But it's the best written scene I've ever done on Smallville."
• Lionel (not Lex!) Luthor appeared in the new footage for season ten, but that doesn't mean they've given up on Michael Rosenbaum's return. "I know he's thinking about it," Tom tells us. "I know he knows that we want him and we don't feel like we can end it without it. He threatened he'd be in audience and make himself known, but he kept quiet if he was even out there." And for the record, Tom said he'll sign our petition to bring the baddie back, so let's get going on that.
• Tess lives! For better or worse, Cassidy Freeman ain't goin' nowhere. "I'm sitting here in this panel, so it looks good," she teased. "There are no goodbyes for me right now, I'm coming back to say hello."
• Brian Peterson says they're bringing in Darkseid as a villain this season, but in a way we've never seen before. Also, members of the Suicide Squad will pop up.
• Some form of the real Superman suit popped up in the promo, to which Tom said he hadn't seen it in person yet, and Brian promised we'd see Clark in an outfit other than the black one we're seeing now. "Whatever we do, I want to make sure we earn the suit at the end," Tom told us after the panel.
• 22! Erica will be in 22 episodes this season. And Justin will be in 17.
• To answer many Twitter Q's: ""I don't think we need a symbol or bracelet to know who Clark's true love is," per Brian.