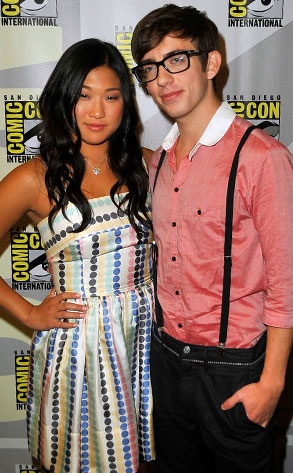 Albert Ortega/PictureGroup via AP IMAGES
Ready to get your Glee on? We just got to chat with Ryan Murphy and his always fab Glee cast, and of course hit up the panel session here at Comic-Con to soak up as much Glee scoop as humanly possible. Here's what you fans absolutely must know...
Unfortunately, Matthew Morrison, Jayma Mayes, Lea Michele, Cory Monteith, Mark Salling, Dianna Agron were not at Comic-Con, so there was no talk about those particular love triangles. We know, we can hear your cries of frustration from San Diego. Lucky us, tons of other cast members were there, and we have plenty of other Glee goodies for your perusal! Here are your highlights:
New love triangle! Ryan reveals that Tina will fall out of love with Artie and start falling in love with Mike Chang. Commence gasps of shock and betrayal.
Britney! The Britney Spears episode, called "Britney/Brittany" will be airing in September and will consists of six songs. "We're doing it in a very funny way. We're doing it in a fun, hallucinogenic way," Ryan reveals. Since Matt Morrison publically voiced his objections to a Britney-themed episode, Mr. Schuester will spend the whole episode refusing to do Britney songs. Ha! Awesome, right?
Glee in 3-D! No, seriously! Ryan was asked to do a Glee movie, but he declined. He did say if he were to ever take Glee to the big screen, he'd want to do "a 3-D concert version from Radio City." Shall we start that campaign now?
More mama drama. Ryan confirmed that Idina Menzel will be back for season two. Holler!
Not bringing sexy back. The rumor of Justin Timberlake appearing on Glee was again squashed by Ryan, but he did think that if he were to come on the show, he'd be perfect as Will's younger brother.
Daniel Sakow/PictureGroup via AP IMAGES
New couple alert! Kind of. Currently, the writers are toying around with having Brittany and Santana kiss. Naya Rivera was also kind enough to drop their fan-given couple name: "Santittany." Titillating!
Less music? In the second season, Ryan and Co. will be focusing more on characters and their stories and less on musical numbers. He guesses season two will average about five numbers an episode as opposed to last season's eight. But rest assured, Ryan did promise that some episodes would get music-crazy.
Geek-splosion! Ryan announced they will be doing a Rocky Horror Picture Show-themed episode.
Season opener. The first half of the premiere episode will be catching up with everyone and what they did on their summer vacation. Ryan plans on starting the gang at "ground zero," as he calls it. "They start the year as bigger losers than they were last year because of their very public third-place finish."
Praise Jebus! Ryan revealed an upcoming episode theme to be religion. Songs to be covered: "Losing my Religion" and "Papa, Can You Hear Me?" Also, Mercedes will be taking Kurt somewhere special: her church! We already have goosebumps forming in anticipation of that gospel number.
Super Glee. We know that the precious time slot following the Super Bowl will be filled by Glee, but Ryan revealed it will be a tribute episode, though he can't tell us who they will be honoring.
Friend forever. Amber Riley told the crowd she loves Mercedes' relationship with Quinn and that she hopes it continues.
Home life. We are going to get glimpses into the home lives of New Directions. Ryan is interested in meeting Artie's mother, Rachel's two gay dads, and he also believes that Brittany has a "really smart older sister."
And that's the scoop, directly from Comic-Con. Take a moment, let it sink in, and then go nuts in our comments section.
Note: Kristin will be hosting a Glee event at the TV Academy this Tuesday (just two days away!) with the entire cast and producers, so if you have follow-up questions, you know what to do: Hit the comments section or tweet @kristindsantos.
________
 All of your 2010 Comic-Con coverage is right here.  Live it, love it. Now.