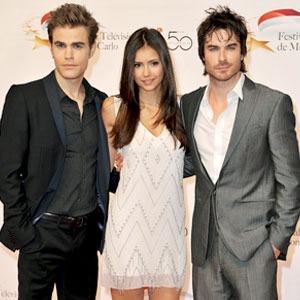 Pascal Le Segretain/Getty Images
Aside from the steamy little chat we just had with Ian Somerhalder, Nina Dobrev, Kevin Williamson and Paul Wesley—check it out here!--there was plenty of dish spilled to the thousands of fans today who packed The Vampire Diaries panel session at Comic-Con. On the off-chance you couldn't shine your best Storm Trooper costume in time to hit the Convention Center in San Diego …Guess what? You can still get the scoop right here for free:
[Executive Producer Julie Plec] on Jeremy: "He's either going to wake up alive of he's going to wake up dead. But he is going to wake up."
Kevin Williamson on whether Damon and Elena will hook up: "I'm not gonna say." Ian: "I should be so lucky."
Paul on Stefan accepting his vampire ways: "I think it's a thing that will never escape him." Kevin: "One of the things that Stefan will come to terms with is the fact that he's a vampire, which includes drinking blood."
Ian on playing nice Damon: "The nice Damon freaks me out. We went through that scene on the porch and I was miserable. I didn't know what to do. My favorite scenes are nutty Damon. Dancing around in my underwear with Kayla [Ewell] was awesome."
Ian on who has the best abs: "I'm gonna go with Paul. I'm too lazy. I like food way too much."
Nina on who is the better kisser, Ian or Paul: "They don't kiss and tell. And neither do I. I'm gonna leave you guys to wonder."
Kevin on the new werewolves: "Werewolves are hard to fake on a weekly basis. It's hard to do those CGI hairs. There will be a transformation.  It'll happen. Not right away, but it will happen in the first order."
Kevin on this season's body count: "I don't kill people just to kill people.  But yes, people are going to die."
The cast on the stories they want for their characters…
Paul: "I enjoyed so much indulging in the blood. I don't want Stefan to be as confused, and I want him to make decision to indulge in blood and take part in maniacal activity once in awhile to fulfill that vampire need. [Beat.] I don't know what I'm talking about. [Laughs.] I would love to do a flashback of Stefan dancing to really bad 80s music and just having fun."
Nine: "I would love to see Elena take on Katherine. Elena's gone a long way."
Ian: "I would love to see Damon front and center at a Rolling Stones concert in 1969, with a mullet. I would love to see Kevin give Damon Stefan's bedroom because there is a lot of action going on in there. It's a dope bedroom."
Kevin on Katherine's backstory: "There's another part of the story we haven't shown you."
What do the stars have to say about their romantic entanglements this season? Read this and check back later for TVD video...