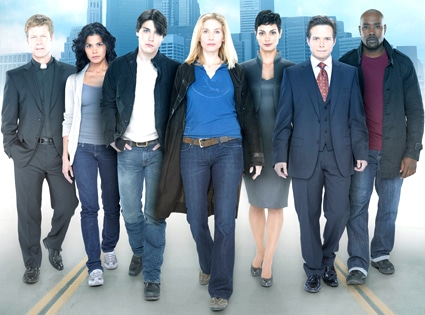 ABC/BOB D'AMICO
When we started lining up for the TV panels at Comic-Con in the wee early hours this morning, we asked nearby fans which cast they were waiting for. And a good portion were already lining up for V.
Not that we ever doubted the hard-core-ness of the V fanbase. Comic-Con-goers were rewarded with lots of teases and tidbits on the upcoming season, and you get them right here without having to line up or anything...
Lots of revelations are planned for season two, as well as tons of character backstory. "We're going to see the true nature of what the visitors are about, and what they're like underneath, so it's going to be exciting," says executive producer Scott Rosenbaum. Here are the highlights from the V panel:
The red sky shot at the end of last season is the first shot of war. "You will find out what the red sky means at the end of the season premiere," Scott promises.
We will be meeting Anna's mom, whose name was revealed to be Diana. No fancy alien names here, folks.
Viewers will be treated to a piece of the V's home world. "When we meet Diana, she'll be in her natural habitat," reveals Scott.
Val (Lourdes Benedicto) really is dead. She will not be returning for season two. Just in case you all thought there might be a shred of hope…we just set it on fire until there was nothing left but ashes. Sorry.
Tyler's father will be back in season two. You know who else is back as a newly appointed series regular? Charles Mesure! Hobbes is now full time. "He's seen the V's as a real threat and the humans will have to do something about. In season two, we'll see which way he goes," Scott spills.
"Lizard love is the best love!" Or so says the beautiful Morena Baccarin rocking a blonde head of hair. And speaking of Anna, we will be finding out why she seems to be so interested in Tyler.
Jack may have been a "priest-soldier" in season one, but Scott teases that in season two "we will see much more soldier-priest." We can only assume Jack will be giving a little less conversation and a little more action come next season.
Anna will face an interesting conflict all season after the death of her eggs. "It will take her closer to humanity than she wants to be," Morena says.
Ready for some rad fifths? Writers reveal that as the fifth column expands, they are going to meet a "pretty radical" group of other fifth columns, which will cause conflict.
Those mother truckers. Elizabeth Mitchell talked about some Erica/Anna conflict: "If Erica is the mother of all children, and Anna is the mother of all V's, we will find out just how far each mother will go to protect their own."
And finally, viewers will see the Visitors' effect on the world outside of New York City. Prepare to get global.