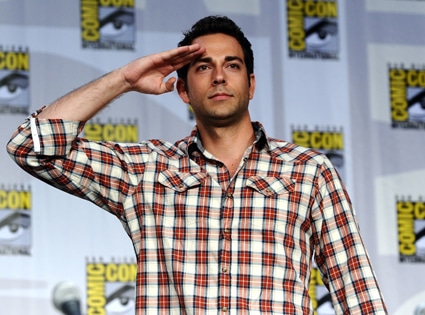 Michael Buckner/Getty Images
The Nerd Herd is no more!
And really, that's pretty much the least scoopy-scoop the Chuck gang dished during their always amazing Comic-Con panel Saturday morning. The biggest news? Mama's home, and rounding out the Bartowski clan is Terminator's Linda Hamilton. Holler!
Also, Jeffster goes Gaga, the Awesomes get awesomer and Chuck and Sarah might actually be happy...
The most exciting moment from this morning's panel came when fans were given a great big recap of the end of Chuck's third season—and then, just when you thought is was over, Linda's famous turning-toward-the-camera scene from Terminator 2 popped up to reveal Mommy Dearest. Cue enormous applause here.
"Forget Angelina Jolie when she was doing the Tomb Raider stuff," Ryan McPartlin (Awesome) gushed. "Linda Hamilton was that—the sunglasses, the gun, the biceps. It's great!"
Show runner Chris Fedak revealed that we will see mom in the season premiere, so there won't be much of a wait for that moment. Sadly, any sort of reunion won't be an enitrely happy one, says Sarah Lancaster (Ellie). "I don't know that finding mom is the best thing, or will be well-received by Ellie. She left, you know? It's not the same sweetness as it was with Scott Bakula's character. It's going to be more like 'Who are you? Where did you go?'"
Plus, Ellie and Awesome are baby-bound this season (there's even the possibility of a belly bump!), so expect everything to be slightly more complicated. "Ellie is starting a family this year, so I think that will probably raise the stakes for Chuck in wanting to protect everybody," teases Sarah. "And we're going to have little Awesomes running around." Awwwww...esome!
Not having their own kids this season will be Chuck and Sarah, who are simply enjoying coupledom—kinda.
When asked about a remark he made during the panel, Josh Schwartz explained: "I didn't say they'll be happy, I said we'll be happy." Oh, semantics.
He continued: "I think we're happy if they're happy or if what they're struggling with [is] we're a couple. There won't be a third-party romantic interloper for the couple, but there will be the struggles that a couple faces."
Yvonne Strahovski (Sarah) is hoping Chuck and Sarah stay in a good place, though. "I have to say I was very excited to finally be part of the some of the happy stuff," she laughed, before pleading with her bosses. "There's probably going to more of that this season, I hope. Please."
Zachary Levi (Chuck) even got a little googly-eyed thinking about his onscreen lovah, saying: "Even though we're together now and we're a couple officially, a love has always been there." Awww.
And what about those other Chucksters?
• There's much more spy fun to come! "Chuck and Morgan are going to be a pretty bad, but good, but bad spy team," teased Josh. And that Morgan Grimes pair is still in action, too. Adam Baldwin also teased that Casey might actually be going on a mission or two with his long lost daughter, so stick around for that.
• Jeffster (and Big Mike) lives! Says Josh: "These guys are a huge part of the show, and we can promise you, they will be back." And Vik Sahay (Lester) has an idea for their return: "We pick up on the lam. I hope we're somehow boiled and embroiled living in Loretta. Maybe doing a vision quest in the Mohave Desert." Or, they might be hookers. Josh and Chris' idea, not mine.
• The Buy More is now an official CIA establishment. And that's not all.
• The Old Spice guy Isaiah Mustafa will be around next season, and get this: He's playing the same part as Olivia Munn. What the whaaa?! Explains Chris: "We realized we were stunt casting one part over and over again, so each week we're going to try to bring a new spy in to play the part of Greta." In the premiere, it's Olivia. In week two, it's Isaiah. Any pitches for week three?
• Oh, and did we mention that Jeffster performed Lady Gaga's "Bad Romance"? Yeah, it was pretty much the best thing you can imagine.