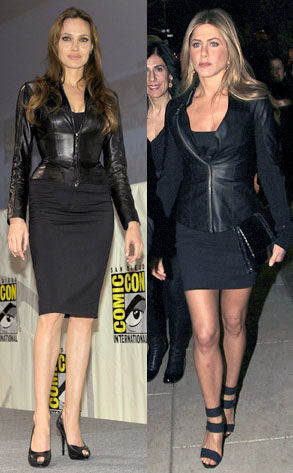 John Shearer/Getty Images; INFdaily.com
Angelina Jolie shut it down yesterday when she hit Comic-Con in San Diego to promote her action flick Salt.
The actress got the fanboys drooling in a skintight, waist-cinching leather Versace jacket over a body-hugging black dress and Ferragamo heels. No messing around here—Angie's kicking ass and taking names!
And look at that—Jennifer Aniston rocked a similar outfit earlier this year when she was in NYC promoting The Bounty Hunter. The gorgeous Friend showed a little more leg, though, wearing a minidress under her black leather coat and thick-strap heels.
So whose outfit wins here, Brad's baby mama or his ex?
Tell us in the comments, and then vote on which A-list babe's red carpet style is better in our glamtastic new Angelina Jolie vs. Jennifer Aniston: Style Showdown gallery!