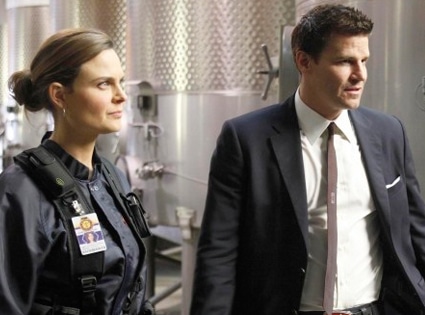 Richard Foreman/FOX
It looks like absence may indeed make the heart grow fonder. At least when it comes to Booth and Brennan's situation.
We had a heart to Hart (get it?) with the main man, Hart Hanson, and his two stars, Emily Deschanel and David Boreanaz at Comic-Con (ever heard of it?). And here's what's coming up for our favorite noncouples in season six...
"The time apart may have given me some time to reflect and consider that I might have made a mistake when I said no to getting together when he put his heart out there," Emily spills. "But now he's got this girl, so it causes a little conflict."
That's right, shippers. Make way for another lady in Booth's life. If you need something to throw at your computer, we suggest something soft. Who does this new woman think she is?
"She's a war correspondent who I met while over there in Afghanistan," David says. "We'll see how that builds as far as what it does to our [Booth and Brennan's] relationship. I can say honestly I don't think it's going to do much to the relationship. It'll challenge it. It might make her a little jealous."
"It's kind of scary to me!" Emily interrupts. "This lady is coming in!"
Easy, woman. You had your chance! Clearly, Booth feels the same way in that regard.
"It's threatening, but it's also refreshing to see Booth, who's put himself out there at the end of season five and said 'Here is everything, I'm gonna be there' and she said 'No, I can't do that right now'," David recaps a little bitterly. "And he said, 'OK, I have to make choices, I have to move forward right now'. And in doing so, he's made a few choices and he comes back with that."
Choices? Moving forward? We don't like the sound of that. Didn't they kill us enough by splitting the gang up? But that's where super Hart Hanson swoops in to ease our troubled souls. Here are some highlights from him:
Reunited! Season six will be all about bringing the gang back together. "We start this season taking a look at how things are going for them split up and why would they come together again," Hart dishes. "And really, it's about how you get a family back together again when mom and dad split up."
International Fun! Before everyone gets back together, we'll see them in their new lives. "We're going to see Brennan in Indonesia and we will see Booth in Afghanistan before they come back."
New Gal on the Block! What's the deal with Booth's new love interest? "I never said that!" Hart laughs. "And I keep refusing to say it.  But, we have cast an actress to play a part for some episodes in the show," he finally reveals with a coy smile. You sly devil.
Sticking Around! "I know that we can do a very good job for another couple of years. I think eight seasons would be good. I could see us going a solid eight seasons."
Angela and Hodgins Forever! Here's some happy shipper news! "There's a million stories that come from being an actual together couple," Hart reasons. "Angela and Hodgins are a great couple, and we're just going to work our way through those things. They're going to stay together. They're going to face every obstacle."
Bones and Booth Forever? When asked about having a season where those two crazy kids finally are a couple, Hart simply answered, "I don't not see it happening. I will say this, I have no interest in them getting together on the last day of the series."
We'll be front and center for the Bones panel where the holy trinity will most likely be dropping even more knowledge bombs. Stay tuned for more scoop here.  That is, if the fire marshal didn't close down Ballroom 20 beforehand. Did you know that people kinda sorta like this show and the panel after it, True Blood?