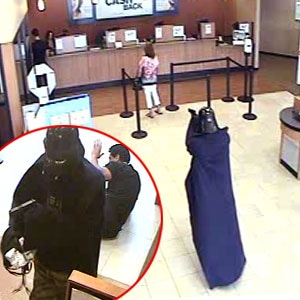 Suffolk County PD
Someone has given in to the dark side.
A man dressed as Darth Vader robbed a Long Island bank Thursday at gunpoint and managed to abscond with a bunch of bills.
This was no Comic-Con stunt, either.
According to the New York Daily News, the Star Wars bandit burst into a Chase Manhattan in Setauket, N.Y., wearing a Vader helmet, a blue cape, and camo pants.
Instead of a lightsaber, however, he stuck with a gun, waving it around and demanding money from the teller. Apparently with the Empire having crumbled and all, someone's desperate for some cash. 
No Jedis were there to stop the Sith Lord, save one customer who thought the costume was a joke and started chatting him up before the fake Vader threw him to the ground.
Thankfully, no one else was harmed in the holdup—or had their windpipes crushed.
It's not known how much cash he got away with. Police don't have a suspect yet but are investigating.
May the Force be with them.