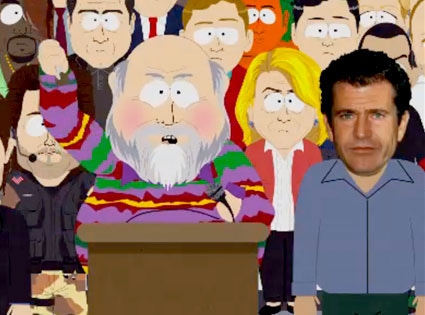 Comedy Central
UPDATE Oct. 20, 2010: Chesser pleaded guilty to supporting a terrorist group and to two counts of communicating threats and soliciting crimes of violence.
________
Guess he didn't respect their authoritah!
A man behind the veiled threats against South Park creators Trey Parker and Matt Stone over their depiction of the prophet Muhammad in a two-part cliffhanger last April has been arrested on unrelated terror charges.
Zachary Chesser, 20, was taken into custody Wednesday and charged with giving material support to the Somali-based terrorist group al-Shabab by attempting to travel to the African country and become a foreign fighter.
Kinda like when Cartman convinced the boys to go to Somalia to be pirates, no?
The Virginia native made an initial appearance this morning a federal court in Alexandria without an attorney and requested a court-appointed lawyer be assigned to him. He will remain behind bars at least until a detention hearing scheduled for Friday.
Per an FBI affidavit, Chesser, aka Abu Talhah Al-Amrikee, told investigators he attempted to fly to Somalia twice to join the group, which has ties to Al Qaeda: the first time however he was prevented from going by his mother-in-law while the second time he wound up on the no-fly list.
The material support charge is not connected with his online rant.
Chesser was the bonehead who issued a warning on a Jihadi website cautioning Parker and Stone risked being killed for offending Muslims with their purportedly blasphemous portrayal of the prophet in the cartoon's 200th and 200st episodes respectively.
The site posted the addresses of Comedy Central's headquarters and the South Park duo's production company as well as a photo of the dead body of Theo Van Gogh, the Dutch filmmaker who was murdered in 2004 for making a film challenging Islam's views of women.
"We have to warn Matt and Trey that what they are doing is stupid," read Chesser's not-so-subtle warning. "They will probably end up like Theo Van Gogh for airing this show."
Law enforcement had no basis for arresting him then as the pointed message was written in a way that he did nothing illegal. But the post was enough to raise alarm bells with authorities and the cable network about whether it might inflame extremist sensibilities in the Muslim world like the Danish cartoon controversy and invite the possibility of violence (even though the guy in the bear costume turned out to be Santa Claus).
Such concerns caused Comedy Central to censor the image of Muhammad with a black strip. But upon hearing Chesser's threat, the network went even father, bleeping out in the concluding episode the entirety of Kyle's traditional "what did they learn" speech. That prompted Parker and Stone to later blast the network in a statement and lament that the summation didn't even mention the prophet, but rather was about not bowing to intimidation and fear.
So much for that.
To Parker and Stone's credit, the two-parter dealing with such a delicate subject was nominated for an Emmy this year. Reps for Comedy Central and the South Park brain trust were unavailable for comment.