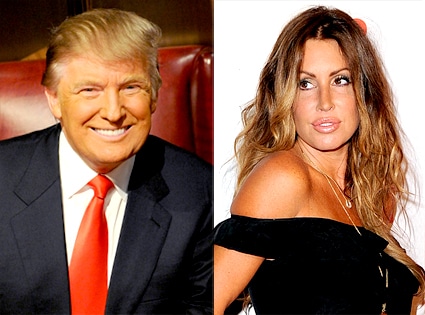 Ali Goldstein/NBC; Katy Winn/AP
Guess Donald Trump didn't want Dr. Drew Pinsky's sloppy seconds.
Just a day after Rachel Uchitel signed on for the upcoming edition of Celebrity Rehab With Dr. Drew, the Donald has dropped the erstwhile Tiger Woods mistress from consideration of the next round of Celebrity Apprentice.
"We no longer have interest in Rachel," Trump's camp said in a statement.
Too bad for her because as of last Friday, sources told E! News the real estate mogul was serious about recruiting her.
But now Team Trump is spinning it a little differently.
"Rachel Uchitel very much wanted to be on Celebrity Apprentice. She asked us, we did not ask her," his rep said. "We were considering it but have 10 people vying for each and every spot. Look what happened to Joan Rivers, Trace Adkins, Piers Morgan, and others who have been on the show."
While Trump may feel jilted, Uchitel is getting some famous new friends. The Celeb Rehab cast also includes such celebrity substance abusers as 7th Heaven's Jeremy London, The Hills bonehead Jason Wahler, disgraced former teen idol Leif Garrett and ex-model Janice Dickinson.
On the bright side, getting sober beats getting fired.
—Additional reporting by Whitney English