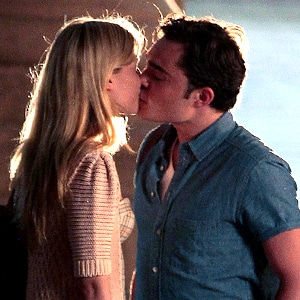 PacificCoastNews.com
Sigh. Don't these big fancy TV producers know what they're doing with our fragile wittle hearts?!
Oh right, yes, they know precisely what they're doing, and as it turns out, gut-wrenching will-they-or-won't they drama can make for some mighty fine TV. Sometimes.
So what's next for your favorite could-be couples on Glee, Gossip Girl, One Tree Hill and more?
Read on!
Jackie in Maryland: Please tell me that the promos are misleading and Frank is not going to mess things up with Ali on The Bachelorette tonight!
Don't kill the messenger, but Frank has only got googly eyes for his ex-ladylove, who we'll meet in tonight's episode. And unfortunately for Ali, Frank makes the choice to rekindle the flame with said ex, then head to Tahiti to fill in the Bachelorette. Boo to the hoo, right?!
Beth in Maine: Please tell me there was more Lost-related chatter from your Michael Emerson interview!
As a matter of fact, Michael was happy to talk about the end of Lost and how fans have been impacted by the way it wrapped up. "I was thrilled and proud of the finale, and especially delighted in the way my character was wrapped up," Michael said fondly. "And the fans that I've run into I think we all feel a sense of brotherhood, like we've gone on this arduous journey together." Well said, brotha.
Jackson in Seattle: Got anything fun on Sons of Anarchy? I'm so excited for that show to return.
The fourth episode of Sons of Anarchy's third season is titled "Home." Let's guess what that might mean: (1) Jax gets his son back, safe and sound; (2) Gemma returns from her temporary life on the run; (3) Ummm, any other ideas?
Adam in Fontana, Calif.: I miss Modern Family. How's the second season coming along.?
It's not coming along quite yet! The gang starts shooting again Aug. 2, but we just spoke to Emmy nominee (and one of our favorite funnymen) Eric Stonestreet, and he revealed his one hope for Modern Family's season two. "It's gonna be incredible to go back and see the kids and celebrate with them," he said. "Hopefully Lily knows our names—she's had some time to practice her words. But it's in our contract, so Jade and Ella better know Eric and Jesse!"
Theresa: Kristin, I'm so glad you're back from vacation! Where'd you go? And when will Tater Top Awards end?
You have only a few more hours to vote, so do it now right here! As for vacay, it was absolutely dreamy thanks to the kind people at Esperanza Resort in Cabo San Lucas, Mexico. It's quite honestly the most heavenly place I've ever been, and I highly recommend it for a thoroughly relaxing vacation. I know what you're thinking: Relaxing with a 1-year-old baby...Say whaaa? But my own San "Luca" loved it, too, and it was an awesome time all around. Even if you're staying elsewhere in Cabo, check out their restaurant, El Restaurante. My husband and I might need to renew our vows just to be able to have a reception there cause it's so purrrty. That's completely rational, right?
Monica: Please, some good Gossip Girl news! I heard that Clémence (Eva) is going to be a series regular. Please say that's not so! I want hope for Chuck and Blair.
Here's the teensy bit of hope I can offer: I'm told Clémence Poésy is not a series regular for the coming season. I'm also told that Blair does not have a new love interest in the works. So maybe that's...something?! In other news, you know those photos of Dan and Vanessa pushing around a stroller? I hear that's Dan's actual baby! I'm still in shock they're going through with that storyline...You? Should be Crazytown.
Gina in Tallahassee: Will Dan and Serena be together when this season starts?
I'm hearing no. I can't imagine what she doesn't see in her sorta-kinda half brother soon to be with child!
Wendell: That photo of Nina Dobrev on Twitter seriously freaked me out! Tell me that is Katherine and not Elena going all nutty or something.
It's defintely Katherine!
Rebecca in New York: Hey, what's with Sophia Bush hinting that she and Austin Nichols will get married on One Tree Hill? Is there a wedding or not?! Also, will Peyton and Lucas ever come back?
I'm hearing there's no wedding yet in the works. Probably some day, but I'm told there are no current plans right now.
Jackie in Miami: Got any Glee scoop on Will and Emma? They're my favorite couple on Glee!
Sorry to break it to ya, but don't think that smooch in last season's finale led to a full-fledged relationship over summer break. We spoke with show runner Brad Falchuk who told us this upcoming season they'll be exploring, "What does Will look like as a single guy, for real?" Also standing in their way? A little guest star you may have heard of named John Stamos and Will's ex-wife Terri, who yes, is still in love with everyone's favorite Spanish teacher and determined to win him back. By the way, make sure you check out my exclusive interview with John Stamos that just posted, where he talks Entourage, Beach Boys, Glee and that unfortunate extortion. He starts filming Glee soon!
Burt in Indiana: Have you seen the premiere of Project Runway yet?
Get this, we have and it's good. Even better, the premiere has a little twist: You'll meet the contestants in the beginning of the ep, per usual, but they're not really contestants yet! We'll give you a second to process that 'dun-dun-dun!' Once the gang arrives in New York, they'll be given five hours to put together a look and the worst of the worst will be sent packing, failing the last phase of the audition process. Side note: The new 90-minute format feels a little long.
Joe in Costa Mesa, Calif.: I am seriously loving this season of True Blood! I'll take any scoop you've got!
How about some Bon Temps body count intel? Director Scott Winant tells us: "This season the fewest actors die. I killed my share, but compared to season two, not as many." Are you breathing a sigh of relief that we'll be losing less of our beloved characters or do you tune in for the blood and carnage? We won't judge. Well, maybe just a little.
Gracie in Kansas: What's ahead for Jason?
Looks like that annoying quarterback is going to continue honing in on Jason's old stomping grounds, because our True Blood sources say his next stop is going to be working with the infamous road crew. Guess that scholarship didn't come around after all?
Cara in Highland, Calif.: What's the deal with Tommy's dad?
Are you referring to that freaky head of hair, or the whole "I own my son!" thing? Let's go with the latter. Without revealing too much, we'll say that the Mickens family has a means of income and it involves pimping out their youngest son, so to speak. Oh, and it's illegal and does not occur when Tommy's in his human form.
Brynn in San Diego: How about some 90210 scoop?
Forget Liam. Annie's found a sexy new mature man, and it's all because of some spilled coffee. Thanks to a little run-in with a sexy stranger, Annie is going to find someone she has a lot in common with (theater geek, anyone?), but unfortunately, at least initially, Naomi's ex will stand in the way of a little lovin'. Oh, and did we mention that this guy might just be related to Mr. Liam?
Jasmine in North Dakota: I love Annalynne McCord. Any fun stuff coming up for her?
Jen and Naomi are going to continue duking it out, only this time there are lawyers involved. And N's eight-month pregnant sis is determined to keep her equally unstable sis away from the family funds, but luckily (?) for Naomi the court sides with her this time around.
Brandon in Oklahoma: How about some long overdue Life Unexpected news?
Got it! The radio station is trying to sex things up a bit when LUX returns—by adding a born-again Christian to Ryan and Cate's morning show. Huh? And yep, it's safe to assume Cate will not like this chick one bit.
Jon in Charlotte, N.C.: Anything on the final two episodes of Friday Night Lights? I need it to prepare for the end of season four!
Yikes, how are you gonna deal when the end of the series comes? Don't answer that. We're not ready either. Thankfully, the final two episodes of this season are remarkable, so hopefully that'll tide you over until season five starts. The controversy with Tami's advice to Becky reaches a breaking point, and the school demands a public apology. But she didn't do anything wrong, you insist? Well, Tami agrees.
Brant in Rockford, Ill.: The Riggins Brothers on FNL are just begging for trouble with that chop shop. Just tell me it works out in the end!
You think life in Dillon ever works out smoothly for anyone? Especially not for the Riggins brothers. Sorry to tell you buddy, but there are some rough roads ahead for Tim and Billy. But the silver lining to that is seeing Taylor Kitsch in some of his best acting in the series. And that's saying something.
Bobby in Downers Grove, Ill.: What's this I'm hearing about Burt Reynolds on Burn Notice?
It's mustache mayhem when the iconic actor guests this week on Burn Notice! Burt Reynolds steals every scene as a hilariously out-of-touch retired spy targeted by his Cold War Russian enemies. While Michael Westen guards the old-timer (aka his "Ghost of Christmas Future"), Fi and freshly burned spy Jesse (Coby Bell) confront his old boss (Richard Kind, Curb Your Enthusiasm's Cousin Andy). Jesse gets closer to the truth...while Fi and Michael grow farther apart. Sadface.
Gregory in Houston: Please tell me something about Bones.
Get ready to see some of Tamara Taylor's great acting chops when Bones returns. Cam sets up an on-air interview and unbeknownst to her, the journalist only intends on grilling her about an ongoing, and very sensitive, investigation. And without revealing the case at hand, let's just say things get ugly very quickly.
Hank in Boise, Idaho: I'm really digging Rookie Blue. What's coming up?
Andy finds herself in some serious danger this week when she and a fellow rookie are the first on the scene of a violent crime. She's eventually left to fend for herself, which ends up being an eye-opening experience.
Andrea in Canton, Ohio: Leverage is awesome this summer! Can you give me any scoop on this week's episode?
Rest assured, Eliot's hair will continue to be luxurious and shiny. Oh, you want more scoop than that? Then prepare for a romp in the great outdoors, courtesy of Eliot and Hardison, the latter being less than thrilled about being away from his precious electronics. But it's necessary if the gang wants to take down an evil money launderer. Are there any other kinds of money launderers? Well, this one is also...patriotic.
May in St. Louis: I'm kind of curious to see how Joe Jonas does on Hot in Cleveland. Got any scoop on his character?
He'll be playing Will, Melanie's son, and it's safe to say at first look, their relationship is not exactly smooth. ""It's typical. I'm on my phone a lot, kind of distracted, doing my own thing," Joe tells us. "She wants to get close to him, but it's kind of hard." Kids today with their texting and tweeting and whatnot. Valerie Bertinelli also adds that Joe has an "adorable scene" with the always flawless Betty White. Maybe he serenades her? Fingers crossed.
Joe in San Francisco: I'm so excited for My Boys to come back! What can you tell us about the first episodes back?
How about one of my favorite moments with the gang I've ever witnessed? In an upcoming episode, someone makes brownies that have a certain extra ingredient. What would be a typical stoner storyline turned into something simply awesome because of the unlikely victims of the fun brownies. Trust, it makes for some crazy hilarious scenes, and you don't need to be baked to enjoy them.
Lacey in Omaha: My Boys returns this week! Got scoop?
Check out our favorite single duo, Mike and Brendan, suiting up in one of the early episodes. Seriously, Barney Stinson would be proud. Like usual, they're trying to pick up girls. Unlike usual, they do it in an entirely classy way. Too bad they run into the others at the bar, and we can't promise the girls stick around after that unfortunate meeting.
Aimee in Las Vegas: I miss Parks and Recreation. Anything cute coming up?
When Parks and Recreation returns (soon please, NBC), Leslie (Amy Poehler) and Ben (Adam Scott) take to the airwaves to promote a fun little city event. Sadly, it turns into the Bash Ben for Being a Young mayor hour, and Leslie, of course, comes to his defense. Can these two please just do it already?!
Jesse in St. George, Utah: Entourage, puh-leeze.
The tension continues to grows between Eric and Vince on Entourage, due to the superstar's new need for speed. "E is very sensitive so he can't accept that Vince is maybe moving on a little bit himself, Adrian Grenier tells us. "It's not just E that is moving on and growing up. Vince is also finding his wings and becoming a man."
Patrice in Helena, Mont.: How about some Hung fun?
According to series star Rebecca Creskoff (Lenore), the Hung season-two finale is a shocker: " Big cliffhanger! There was one version of the finale that was very tied up and they were like, 'Oh no, no, unravel that!' So that was good."
Beatrice in California: What's ahead for Pretty Little Liars?
Allison's brother is set to make a triumphant return to town—and not in a welcome way. The long-gone lady's bro is out to take the girls down by discovering what really happened to A, thus ruining the lovely memorial Aria and Co. had planned for their friend.
Breanne in Long Island: Please tell me you have some scoop on Make It or Break It?
Think Lauren's changed? That one deserves a big ol' HA! When the Rock starts planning its annual Rocky Awards, this bad girl goes all out to win Miss Congeniality, even if it means returning to her bribing, cheating ways.
Linda in Calabasas, Calif.: I wish you'd talk about Huge more often. It's such a cute show.
As you wish. Will is about to demonstrate some Brave Little Toaster-type behavior when she feels like her crush Ian is slipping away. The cure: writing him a love song, of course.
—Additional repoting by Megan Masters, Jenna Mullins, Drusilla Moorhouse and Tierney Bricker