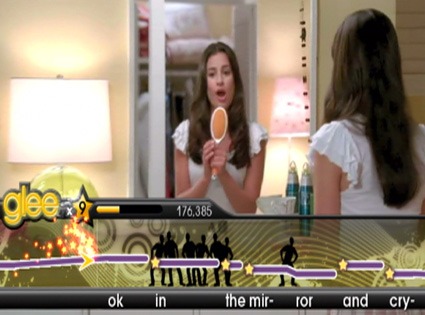 Nintendo Wii
Put down the hair brush, step away from the mirror, and no one gets hurt!
Oh goodness, don't worry—you can keep those luscious locks in tact. We're just here to deliver your first glimpse at the new (and much improved!) way to to sing along with your favorite Glee hits. So plug in that Nintendo Wii and warm up those sweet vocal cords, because Lea Michele's got nothin' on you...
As you can see in our exclusive sneak peek above, come this fall Gleeks will have the chance to jam to over 35 of the series' greatest hits while actual scenes from the Fox hit play in the background, thanks to Komani's latest video game Karaoke Revolution Glee! for Wii.
And get this—it's not just a solo act! The gaming gods teamed up with 20th Century Fox to bring New Directions' best season one moments to Nintendo, which include duets and group numbers shown in our second teaser.
Come on, you know Queen's "Somebody to Love" was the best of the season!
Karaoke Revolution Glee! hits stands this fall, so mark your calendars and start rehearsing now.
For more gaming (and TV and movie) goodness, be sure to follow E! Online's 2010 Comic-Con coverage all week.