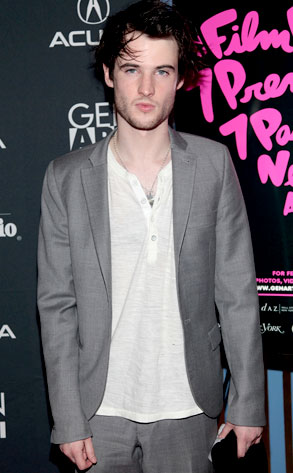 Astrid Stawiarz/Getty Images
There's practically nothing we don't already know about Robert Pattinson. Well, the dude still has a secret or two, trust. But what about the man behind the man? His BFF, Tom Sturridge?
The British actor has been spotted out on the town with pal R.Pattz (and K.Stew, too!) a number of times, but except for the occasional paparazzi swarm or shirt-swapping shenanigans, has been able to escape the Twilight-adjacent limelight.
Have no fear there, 'cause we dug up some deets on the dude! Read on for some fun juice on the besties better known as TomStu:
He's big in England. While TomStu might not have his puss plastered on pillow cases like his famous fanged pals, he's a pretty well-known actor in the U.K. The dude has appeared in a slew of films with big-time Brit stars and nabbed the Best Newcomer award from the Manchester Evening News Theatre Awards for his stage debut, Punk Rock. Hell, he even has his own U.K. celebrity iTunes playlist. Does it get more prestigious than that?
K.Stew ain't the only gal pal to Tom and Rob. Tommy helped send the Robsten-addicts into a tizzy after he was spotted slipping out of a club with Kristen Stewart recently, as if a guy can't be friends with his buddy's GF (please). But K.Stew isn't the first babe the two have been spotted out on the town with, how very interesting. The two share an amiga in Camilla Belle, who in the past, both guys have been linked up with, romantically speaking, though neither coupling ever admitted to dating.
He was fired for Hayden Christensen. Tom could have made his State-side debut (and crossed paths with Kristen) years ago, had the execs of the action flick Jumper not decided the mostly unknown actor couldn't carry a $100 million dollar movie. Two weeks before shooting began, the dude was dumped for Hayden. That's Hollywood for you—but Tom got a second chance at costarring with Rachel Bilson in their new film, Waiting for Forever, which is currently making the idie circuits. And really, who's getting talked about more these days, Tom or Hayden?
He got his latest part thanks to Rob. Speaking of Waiting for Forever, Tom can thank Rob for helping him land the role. See, the director of the film originally wanted R.Pattz himself to play the hopeless romantic lead—who wouldn't?—but when Tom found the script while crashing at Rob's place, he decided he could play the part better. And eventually the studio agreed.
He has no plans to work with Rob. While Tom may snatch scripts from Rob, he has no plans to team up with his friend in a film anytime soon. When asked on a German radio station whether he would work with Robert, Tom said, "I spend so much time with Rob already, I can't work with him, too!" Funny thing is the two (kind of) already did work together. See, Tom was in Vanity Fair with Reese Witherspoon, which Rob also filmed scenes for (though his were later cut).
But now Rob's working with Reese on Water for Elephants. Small world for these two, huh?