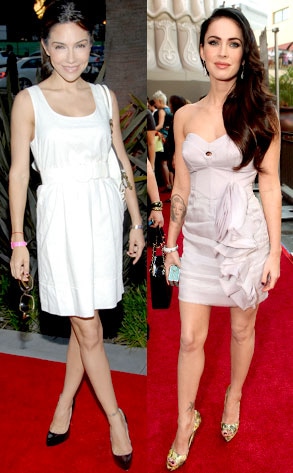 AP Photo/Dan Steinberg; Charbonneau/WireImage.com
Wonder why Megan Fox, the minx who doesn't mince words, and her long-term BF, Brian Austin Green, were so quick to get engaged and walk down the sandy aisle? Don't try to tell us it's because they've been so in love for so long.
Well, it all has to do with BAG's relaysh with his bitter ex:
Remember how we told you Bri and his former boo actress Vanessa Marcil were not on the friendliest of terms (and we mean that as an über-understatement) and dished that B and his new beauty, Meg, would probably plan their wedding to overshadow Vanessa's with fiancé Carmine Giovinazzo?
Well bingo, the ballsier bride came out on top.
While Megsy and Brian might have quietly tied the knot a few weeks ago—back on June 24, to be exact—their Hawaii wedding photos, showcasing their simple ceremony, as well as a simply stunning Megan in all white, hit newsstands­ last week in a People magazine multipage spread.
Perfect timing to outshine Vanessa's wedding last weekend. Us Weekly is reporting that V and Carmine tied the knot in New York on Sunday with Vanessa and Brian's son, Kassius, in attendance.
Good for them, but we can't begin to imagine which nuptials will get more press. Oh wait.
Sorry, V, but you just got out-foxed by the devilishly delicious Megan. Don't worry, babe, you're definitely not the first.