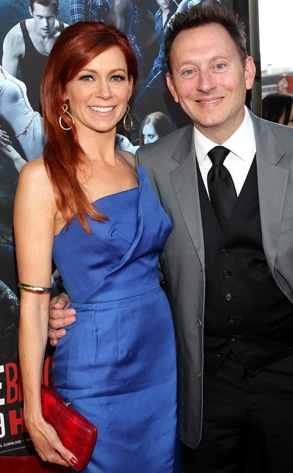 FilmMagic Inc/FilmMagic
Ben Linus in Bon Temps—can you imagine?!
As a matter of fact, Lost's Michael Emerson can imagine such things. And so can True Blood sire Alan Ball, so there.
"When I see Alan, he always says 'We have to find something for you,'" Michael tells us, fresh off his much-deserved Emmy nomination last week. "I'm delighted to hear him say it."
And here's where the fun starts. More precisely, here's where we mapped out the perfect game plan for Michael's (fingers crossed!) gig on the show—alongside his lovely wife, Carrie Preston, of course...
Since each season of True Blood has brought us a new big baddie—maenad, serial killer, etc.—we pegged Michael as season four's badass.
"Yes, some new kind of supernatural creature," he tells us. "Or [I could play] just an everyday humanoid. I could be a pizza delivery man who's torn apart by werewolves."
Um, yeah, or not. Maybe we can just get him to be a Merlotte's regular so he and Arlene can share some screen time.
Needless to say, "I would be more than happy to do something on that show if they have the right part and I'm available. It would be a treat."
Now back to that Emmy talk! Michael tells us he's thrilled to be in the company of such talent—namely his equally phenomenal costar Terry O'Quinn (Locke/MIB).
"We both have won this award in our time," he says of the Lost duo, "so we have even greater cause to feel expansive and gracious about it, and hope that some of that happiness gets spread around. The category is so stacked with fantastic players. [Breaking Bad's] Aaron Paul is an actor who I admire, and he's gonna rule at some point. Just whoever takes it home is a more than deserving winner."
Most deserving of all, Michael believes, is the ample amount of recognition his groundbreaking series received from the Academy this year.
"Because of the phenomenon that Lost was, I thought in our final year, they're going to have to pay attention. They're going to have to give some acknowledgment to what the show has been, and clearly they have done that. And I'm so pleased that Matt Fox has been recognized, and Terry, of course—he practically owns that category now. Especially in season six, good heaven, he's so strong."
Is this Lost lovefest making anyone else a little weepy? Sigh.
Once again, our biggest congrats to all of the Lost gang. And even bigger thanks to Michael, Damon Lindelof and Carlton Cuse for the lovely chats, and a much-needed walk down memory lane.
See what Darlton had to say about their Lost post-radio silence here.
________
Comic-Con is next week, so be sure to follow us for all the updates you'll ever need: @kristindsantos @megmasters @drumoorhouse @jbomb11 @tbrick_2