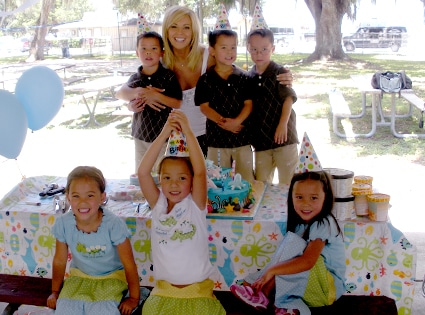 TLC
Good news for all you Kate Plus 8 haters.
A Pennsylvania lawmaker is asking the state's attorney general to probe whether there was any shenanigans in granting Kate Gosselin's 6-year-old sextuplets special work permits.
If government officials are found to have given some favorable treatment or bent rules, production on the TLC reality series in which they currently star could shut down—permanently.
Republican Rep. Thomas P. Murt has issued a statement claiming that the permits issued by the Department of Labor and Industry pertain to employment of "minors between 7 and 18 years of age in theatrical productions, musical recitals or concerts, entertainment acts, modeling, radio, television, motion picture making or in other similar forms of media."
While the law also allows for kids under the age of 7 to perform temporarily in movies, it does not stipulate the same exemption for TV shows, which would spell trouble for the cable network since six of Kate's eight kids are only 6 years old.
Consequently, Murt wants state Attorney General Tom Corbett to double-check the law.
 "I have asked the attorney general to examine the law and clarify whether the permit process provides for such performances," said Murt. "It appears those permits were granted even though the law does not provide for them."
"Under the Commonwealth Attorneys Act, the attorney general is authorized to furnish legal advice to agency heads concerning the interpretation of state laws and regulations," he added. "I have asked him to look into this case to determine whether these permits are legal."
Making sure all his bases were covered (and to keep productions in the state), Murt sent a letter to the Labor and Industry Secretary, Sandi Vito, suggesting that the law be reviewed and amended if there's a consensus that young children should be able to work but need increased protection.
Murt spokesman Sean Yeakle stressed to E! News that the congressman "is not accusing anyone of violating the law and he is not seeking sanctions against anyone. He is simply seeking clarification."
The crux of the issue is whether a reality program in which kids are simply being filmed performing activities they'd normally be doing anyway is the equivalent of a scripted television production.
Work permits for Kate Plus 8 specify the Gosselin kids may not film after 10:30 p.m., anywhere where liquor is sold, no more than five days a week or twice in one day, and cannot be filmed in the nude, in the bathroom or while sleeping.
The Department of Labor and Industry already probed the reality show family last year after receiving complaints, but no action was taken. TLC insisted at the time that it's adhered to all applicable laws and regulations.
In any case, if Kate Plus 8 is found not be in compliant, that could pose a huge problem for the network not to mention detrimental to its bottom line if shooting stops.
Not that the show couldn't do that on its own the way its ratings are nosediving. Since its June premiere, Kate Plus 8 lost over a third of its viewership by the time its second episode aired on Sunday, bringing its total to 2.2 million.
At that rate, the kids will be out of a job quicker than they think.
A rep for the attorney general has not returned phone calls seeking comment. A spokesperson for the Department of Labor and Industry tells E! News they haven't  received the letter yet so they'll be keeping mum for now. No word yet from TLC and Gosselin on the matter.
—Additional reporting by Whitney English