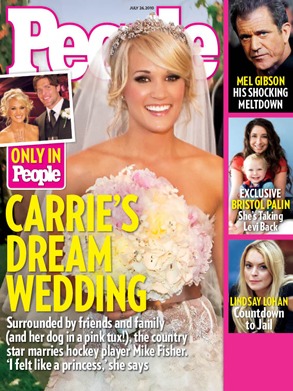 People.com
As Carrie Underwood and Mike Fisher continue to enjoy their Tahitian honeymoon, we're finally getting some more deets on the newlyweds' big day.
In the new issue of People, it's revealed that not only did the country cutie wear a Monique Lhuillier chantilly lace and silk organza gown, but the designer also created a strapless cocktail dress for Carrie to slip into after the ceremony as well.
And what about that stunning tiara the singer is seen sporting on the mag's cover?  
Encrusted with more than 40 carats of diamonds, it was a gift from the groom himself.
As for the reception, the more than 250 guests in attendance enjoyed a four-course dinner that featured sushi and crispy risotto lollipop hors d'oeuvres, as well as dessert from a wedding cake constructed out of cupcakes. All in a ballroom that was decidedly feminine.
"There was pink lighting and pink things hanging from the ceiling, flower balls and ribbon and sparkles," Carrie tells People.
However, her new hubby did manage to put his manly stamp on at least one thing.
The table assignments were placed on painted hockey pucks.
The same, though, can't be said for Carrie's dog Ace, who was also on hand and wore a Swarovski crystal-encrusted tuxedo colored, yep, pink.
________
Check out who else got hitched on the same day as Carrie and Mike in our Celebrity Weddings gallery.