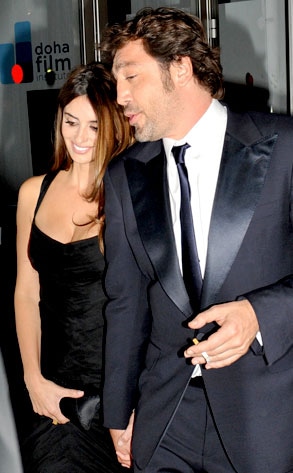 ELIOT PRESS/bauergriffin
Spain's World Cup championship isn't the only thing Javier Bardem and Penélope Cruz have been celebrating lately.
It turns out the longtime couple tied the knot earlier this month at a friend's home in the Bahamas, Cruz's rep confirmed to E! News Tuesday.
You'd think we'd have known, based on the sheer hotness that must have been radiating from the West Indies that day, but no.
Per Cruz's rep, the bride wore a gown designed by pal John Galliano and only family members were in attendance at the small ceremony.
The Spanish-born beauty was the target of pregnancy rumors last summer, and we're thinking she's going to be either confirming or shooting down more of the same sometime soon.
Cruz, who counts Matthew McConaughey and Tom Cruise among her ex-beaus, started dating Bardem in 2007. She played his sexy-nutty ex-wife in Vicky Cristina Barcelona, for which she won an Oscar, a year after Bardem won his for playing the oddly coiffed killer in No Country for Old Men.