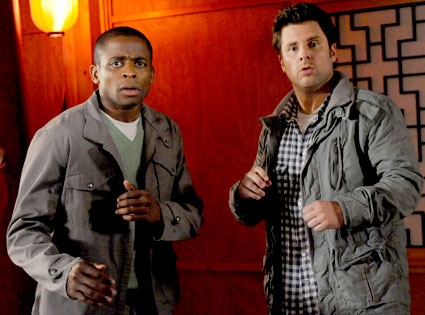 Alan Zenuk/USA
Psych is back tomorrow for its fifth-season premiere. Will you be watching?
For us, the answer is easy: Yes! As psychic detective Shawn Spencer (James Roday) himself once said, "That's like asking if I want a jetpack or if I ever wanted to be a koala bear."
If you're a fan of delicious flavor, read on to hear what star James Roday and show creator Steve Franks told us about the premiere, "Romeo and Juliet and Juliet," and their psychic predictions for the rest of the season...
Wherefore Art Thou, Shawn and Juliet? It's taken four long seasons, but the stars will finally align this season for Shawn and Juliet (Maggie Lawson). (The actors are an IRL couple.) "We're gonna stop the dog paddling and start floating slowly with the current," Franks said.
Always a Bridesmaid: What about single-guy Gus (Dulé Hill)? Will Guy Buttersnaps ever have a fling that lasts beyond one episode? "Gus wants a girlfriend," said Franks. "He needs a girlfriend. He's certainly going to have a date at the ready, not too far off." With his sweet ride (Toyota hatchback) and bevy of nicknames, it's a wonder the SuperSniffer is still on the market.
Rhythm Method: Next week, professional tap dancer Dulé finally demonstrates his mad skillz when Gus takes tap-dancing lessons. Tagging along is...Detective Lassiter (Timothy Omundson)?! Turns out Lassie's therapist recommends the dancing as a way to deal with his anger-management issues. And of course, said Franks, "Shawn becomes insanely jealous."
A Place Both Wonderful and Strange: "It's happening!" Franks and Roday told us about the Twin Peaks episode they teased at last year's Comic-Con. "It's been simmering like a fine Italian sauce," said Franks, "[so] we decided to go ahead and move it onto the front burner—episode 12—this season." No word on the casting, but Laura Palmer's killer (Ray Wise) already killed it as a guest in last season's Exorcist episode.
Living in the '80s: Psych fans know the show is, as Franks told us, the "living embodiment of '80s reference." Remember when Shawn dressed up as Tears for Fears' Roland Orzabal in season two's American Idol episode? This season, Tears for Fears' Curt Smith himself is recording yet another version of the show's theme song. Shout!
Season five of Psych premieres Wednesday, July 14 at 10 p.m. on USA.